How optimizing site utilities with currently available resources can help companies reach net-zero emissions by 2040.
By: Doug Bloss, President and CEO, Armstrong International
From the Gilded Age and the Roaring 20s to the Greatest Generation and the Great Depression, each era in history has its own unique moniker, both symbolizing and summarizing what life was like for those living through the historic events. One can only wonder what more modern events will be known as when students open history books in 50 years' time. Will they see the mid-21st Century as the Decarbonization Era, or perhaps the Road to Complete Net Zero? Will these students be living in a carbon-free world, enjoying the luxury of clean air? There is no way to predict what comes next, but as the generation living here and now, we can influence what those pages may say.
Food manufacturers can cut 30% of their energy consumption by making a few changes and without hindering long-term production capabilities.
Targeting Attainable, Sustainable Goals
The 2015 Paris Agreement entreated government agencies and private companies around the globe to implement plans to limit greenhouse gas emissions by decarbonizing societies, with many organizations setting aggressive goals of net-zero emissions by 2040.
This means industry leaders must already be preparing their facilities for decarbonization. Corporate sustainability teams recognize total electrification and renewable energy are not viable solutions at this time due to cost and availability. Whenever abundant and affordable renewable energy arrive, much can be done now by optimizing utilities systems and refining their operations before looking to other renewable sources. Realistically, manufacturers can comfortably knock off 30% of their energy consumption by making a few changes and without hindering long-term production capabilities.
Using the food and beverage sector as an example, the industry is responsible for one-quarter of the globe's greenhouse gas emissions. The factories in which they produce their products were mostly built more than 50 years ago and are simply retrofitted as decades pass, rather than equipped with improved technology. And now just 15% of the industry is on track to meet sustainability goals, leaving industry leaders with a competitive opportunity to get ahead of the target deadlines for decarbonization.
Full Steam Ahead
As a thermal utilities provider, Armstrong International has seen firsthand how quickly and cost-effectively organizations can kickstart their sustainability goals with a few simple optimizations. Strategy sessions with sustainability leadership teams of seven Fortune 500 energy users, across hundreds of global sites in food, beverage, pharmaceutical and consumer products confirm optimization as the most cost effective first step in the decarbonization roadmap.
Manufacturers can begin by optimizing the thermal energy usage within their plants. Approximately 80% of food plants are already using steam, meaning they are equipped to capture wasted heat and use it as a replacement for purchased fuel. Utilizing a three-step process we call "Circular Thermal," the process includes de-steaming (conversion to pressurized hot water) all applications below 250°F; recovering direct heat when a positive differential temperature is available; and utilizing industrial heat pumps for increasing the temperature of low-grade heat to a useful temperature for each particular process.
Mapping the Road to Decarbonization
Once facilities are optimized, companies can prepare for ultimate decarbonization at reduced capital expense, making optimization a practical, no regrets first step. This Roadmap to Decarbonization takes time, patience, and most importantly, the knowledge and resources to pursue the goal. There are many experts in energy-efficiency to put companies on the right track, and with more than a century of experience, we've learned that the journey begins with optimizing current resources and minimizing waste, followed by total decarbonization.
As we look 30 or 40 years into the future, what do we want our past to say about us? Rather than making wholesale changes on energy sources, why not optimize what we already have first to get us more quickly on the road to a greener future?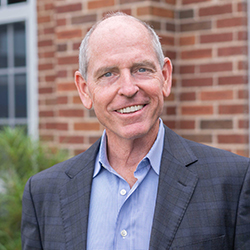 Doug Bloss
Douglas Bloss is President & CEO of Armstrong International and a member of Armstrong's Board of Directors. His 40-year career with Armstrong includes marketing, sales, service, acquisitions, and new product development in Armstrong's core thermal utilities business. Bloss chaired the Energy Management Council and led one of the first energy efficiency methodologies adopted by the United Nations Framework Convention on Climate Change for carbon trading.
www.armstronginternational.com