By optimizing your video content, help your website succeed online, develop brand authority, encourage sales, and more.
Optimizing website videos should be a crucial part of your marketing strategy. Not only are videos an excellent way to drive traffic to your website, but they can also encourage more sales and boost your SEO rankings.
Without video optimization, visitors to your website are more likely to bounce off your pages and, sadly, take their business elsewhere. Yes, creating video content costs time and money, but the benefits are worth the investment, and we'll explore four key reasons why video optimization is important in this article.
What is Video Optimization?
Video optimization is all about ensuring any video content on your website loads quickly and plays without a hitch.
But how can you optimize your videos and why is it important? Factors such as file size, type, and quality of video all play a part, but you also need to prepare your website to be a good home for videos in the first place.
When you're optimizing website videos, the user experience has to be at the forefront of each decision. After all, you'll only reap the benefits of video optimization if visitors are engaging with your videos – whether that's searching for your videos, watching them, or sharing the content with others.
Reformat your website videos to run smoothly on the platform they're published on.
What Are the Key Benefits?
1. Builds Trust
One of the key benefits of optimizing website videos is the impact it has on your customer relationships and the trust they place in your business. Engaging video content can help you in your efforts to build brand awareness and authority within your niche, especially if your videos are published on other platforms, such as YouTube.
Videos can make your website and business appear more relatable, personable, and real. It's often a great way to add a face to the brand too! Without optimized videos, visitors are more likely to judge your website from the get-go, especially if they have a bad experience with slow-loading or unplayable content.
2. Generates More Traffic
You don't need to replace all of the content on your website with videos, but it's a helpful form of media to include – not only for SEO rankings but because videos are a popular source of content for many. Think about how successful the video-only platform TikTok is!
Optimizing website videos should ideally result in your videos popping up on search engines, but uploading to YouTube or social media channels will also drive traffic back to your website. Additionally, reformatting video content for other platforms is a smart idea if you want to share your content widely – another easy win to increase traffic back to your homepage or desired page.
3. Boosts Your SEO Ranking
Search engines, like Google, review your website pages and notice the different types of media you publish, whether that's text, images, or videos. Ultimately, it's good to have a variety and Google places a lot of value on optimized video content! Here are just a handful of easy ways you can optimize your videos for SEO:
Carry out keyword research
Include video transcripts
Reformat your videos for social media
All of these steps can result in a real boost to your website's SEO ranking, which can then feed into the other key benefits mentioned in this list. If Google, or other search engines, deem your videos useful, they'll pop up when visitors search for related terms and therefore drive more clicks to your website.
If your videos are correctly optimized – for example, the video is compressed and there's a catchy title – they'll rank higher in search engine results pages.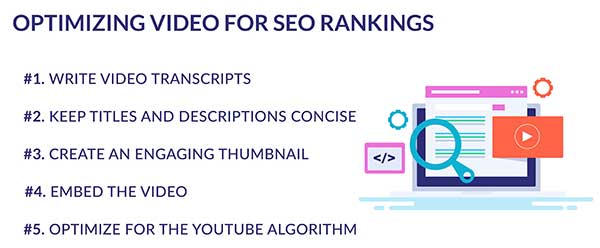 An example of five key ways you can optimize website videos for SEO purposes.
4. Increases Conversions
If you're building trust with your visitors, becoming more visible in search results, and seeing more traffic on your website, the likelihood is your sales will increase too. 78% of marketing experts say video content alone can boost conversions, so optimizing website videos shouldn't be overlooked!
You can create video content that highlights products and services or even simply share your business values and message. All of these factors not only contribute to nurturing customer relationships – building trust and awareness, as we've already mentioned – but could influence a consumer to purchase from your website instead of a competitor's.
Key Benefits of Optimizing Website Videos: Summary
There are many benefits to optimizing website videos, and we've only touched on four key ones here. What's interesting is how they all feed into one another – optimizing your videos boosts your website's SEO ranking and authority in the market, which then encourages visitors to trust you, leading to more traffic and sales overall. And if you don't optimize your video content, it'll be harder to reap the benefits we've mentioned.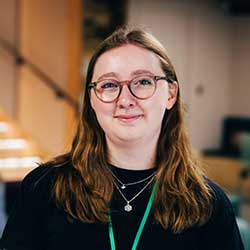 Emma Ryan
About the Author
Emma Ryan is the Senior Writer at Website Builder Expert, part of a team that produces and updates content for the website.  Emma specializes in writing highly-researched and accessible guides, comparisons, and reviews that provide readers with everything they need to know about getting started and growing online. She has also written about small businesses for Startups.co.uk, and has been featured in Digital Information World. She has expertise in website builders, ecommerce platforms, and hosting providers through hands-on testing and research analysis. Emma can be contacted on LinkedIn here.
The post The Key Benefits of Optimizing Website Videos appeared first on Industry Today.