Many warehouses face the same scarcity issues as the supply chains they serve. Here's how to ensure they are positioned for success.
By Marnix Rutten, vice president, sales and systems warehouse solutions at Vanderlande
The 2022 MHI Annual Industry Report found that 57% of respondents rated supply chain disruptions and shortages as extremely or very challenging. The results reflect the views of supply chain professionals from late 2021, however many of those same professionals will tell you that they still find disruptions and shortages difficult today.
With the widespread shortage of parts, components and raw materials, it's important to stock parts when possible.
We all know Covid-19 shuttered factories, ushered in the Great Resignation, and prompted a widespread shortage of parts, components and raw materials amid soaring transportation costs across the globe. Within supply chain circles there is a shared sentiment that many of these challenges remain quite prominent. As shortages and backlogs continue amid still near-record costs, in many respects, scarcity remains the name of the game.
For those tasked with ensuring that materials handling operations remain as effective and as cost-efficient as possible – not just now but tomorrow and beyond – the ramifications of this reality cannot be escaped. How to address component scarcity will be an imperative strategic question this year for those who oversee advanced warehouses and distribution centers (DCs). Fortunately, there are effective strategies and steps organizations can take today.
Start planning for the modernization and expansion of warehouses early: If growth forecasts indicate that a new facility will be needed to provide greater storage density, handle more product lines or deliver higher throughput, start that process earlier and demand guarantees that the components needed to build it will be available. Just as importantly, act now to avoid potential legislative delays. For example, California's "Inland Empire," the warehousing center east of Los Angeles, moved in August of 2022 to suspend new warehouse projects. Other congested metropolitan areas may take similar steps.
Resolve to achieve long-term solutions, not short-term fixes: Out of necessity, warehouse and DC operators made a number of temporary fixes since the pandemic to address greater demand and scarcity. This included running facilities beyond capacity, stretching delivery windows to consumers, increasing maintenance and repair windows, requiring additional overtime and hiring additional people – a difficult task in what remains an exceedingly tight labor market. While these steps were necessary, they are not sustainable in most cases and are expensive to continue long-term. Given the scarcity influencing the industry today, it is even more important to begin building out long-term solutions early – whether that entails building new, more efficient facilities, near-shoring sources for needed components, and building teams that possess the skills modern, highly automated DCs require.
Empower maintenance and repair organizations: When components and raw materials take longer to secure, it is imperative to view the life-cycle services that keep DCs up and running as a strategic priority, not as a reactive necessity. This includes using predictive maintenance technologies and techniques to identify, predict and possibly prevent failures before they occur.
Standardize and stock up on parts before they are needed: The standardization of certain parts is a key and effective way not only to make your facility more flexible, but also to reduce risk. Additionally, opportunities to stock important parts should be pursued whenever possible, particularly today when many suppliers and manufacturers continue to face backlogs. Notably, this requires organizations to cease the application of strategies that apply lean or "just in time" principles to the management of parts inventories. Regardless, now is the time to buy important components or to find a partner that can ensure access to those parts. Do not wait until they are needed.
Complete a detailed business case: This will confirm if now is the time to invest in new materials handling infrastructure and, if so, at what scale. For some organizations, increased transportation costs and longer lead times for components related to overall scarcity and higher interest rates might warrant postponing large capital projects like the construction of new DCs. Only a detailed business case will demonstrate whether large-scale investments, such as those for new autonomous facilities, robotics, or other infrastructure and capabilities – and the benefits they deliver, among them higher throughput, decreased reliance on labor and greater accuracy in fulfillment operations – will offset the costs involved.
Supply chain teams face scarcity today and will likely continue to do so for the foreseeable future. By acknowledging this reality head-on, and taking steps to address it, organizations can plan accordingly, and ultimately emerge stronger and more resilient in the face of future challenges and changes.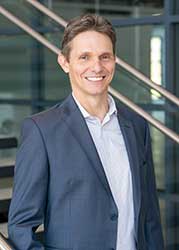 Marnix Rutten
Marnix Rutten is the vice president, sales and systems warehouse solutions at Vanderlande. As an industry veteran with more than two decades of technical and global leadership roles, Marnix oversees the collaborative approach to solving the unique warehouse challenges customers face. He has extensive knowledge in the implementation and operation of the warehousing solutions Vanderlande provides to numerous industry leaders, including those in the fashion, food and general merchandising sectors.
The post Take a Strategic Approach to Scarcity in 2023 appeared first on Industry Today.