Industry leader T.H.E.M. improved sustainability efforts, floor safety procedures and efficiency levels by 23% since August with new tech.
MARLTON, NJ – Since August, packaging industry leader T.H.E.M. (Technical Help in Engineering and Marketing) reduced its carbon footprint, improved floor safety procedures and increased its efficiency levels by 23 percent by integrating Redzone, the leading Connected Workforce Solution for manufacturers, into daily operations. The investment is a testament to T.H.E.M.'s commitment to improvement and engagement.
"I'm very proud of the dedication and commitment our people brought to this effort," said Neil Kozarsky, CEO of the second-generation family company. "Redzone collects and analyzes real- time data direct from the operations floor to confirm we're meeting manufacturing goals, safety standards and regulatory compliance. Our entire staff recognized that investing in the software was an operational decision that institutionalized what has been a key element of our corporate culture from the beginning."
Redzone SVP of Operations Zack Sosebee called the level of success achieved during the onboarding process, "unprecedented for a company of T.H.E.M.'s size."
"Typically, companies experience growing pains when first transitioning from the paper model to digital model like Redzone. That has not been the case with T.H.E.M.," said Sosebee.
One indicator of that achievement is an assessment of compliance checks staff are required to perform to validate the quality of products on the manufacturing line. T.H.E.M. staff was required to perform nearly 28,000 compliance checks during the five-month transition from hand-written checks to software-driven checks. According to Sosebee, T.H.E.M. staff initially missed performing fewer than 3 percent of those checks within the narrow operational window allowed. And every one of them was rectified.
"More than any customers we've worked with, this crew truly hit the ground running," said Sosebee. "It exemplifies T.H.E.M.'s willingness to adapt and grow."
The technology holds workers accountable for performing compliance checks accurately and on time. To enhance safety compliance and reduce the risk of recall, the system ensures production equipment is properly calibrated and sanitized to Department of Agriculture food handling standards before any production begins.
T.H.E.M. also made use of Redzone's translation capabilities, which allows employees to communicate directly with one another and their supervisors in more than 100 languages. Currently, T.H.E.M.'s production team is made up of individuals whose first languages include Chinese, English, Spanish and Vietnamese. That ability fills a critical role in today's manufacturing environment, Kozarsky said.
"Good ideas come from every level," Kozarsky added. "It's important that those who are 'hands on,' who work with our production equipment daily, have a means by which they can share their ideas. Every member of the staff contributes to our success."
T.H.E.M. Vice President of Quality Control Amy Sena spearheaded the Redzone implementation and oversees the project for the packaging innovator. "Few companies care as much about employee engagement," Sena said. "They just tell workers, 'Keep moving, just get that product out the door. It doesn't matter what you have to say.' With Redzone in place, they can communicate their concerns and suggestions directly to me and I can encourage the floor team members with high-fives throughout the day. I can say 'good job' and it will go to them in their language.
"That level of interaction goes a long way to achieve our goals," said Sena.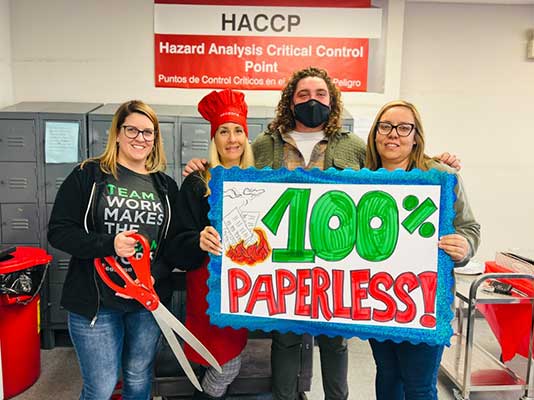 About T.H.E.M.: The company is a unique contract packaging firm that grew from a packaging design and innovation business. A second-generation family business, the 50-year-old firm is a leader in designing and producing innovative single-serve and single-use versions of leading brand products. T.H.E.M. operates two production facilities in the northeast.
About Redzone:
As the #1 connected workforce solution in manufacturing, Redzone enables frontline teams to contribute their full potential, elevating the frontline with new technology to achieve company goals around productivity and throughput. Today, hundreds of thousands of frontline workers are valued, celebrated, and working with purpose; creating stronger communities inside and outside their plants. With customers both big and small, Redzone is helping more than 850 plants worldwide achieve remarkable productivity gains in just 90 days.
Redzone is a privately held company, headquartered in Miami, Florida, with operations around the world. For more information visit www.rzsoftware.com
The post T.H.E.M. Enhances Efficiency, Safety with Redzone appeared first on Industry Today.