Building owners can ensure the safety of their assets by installing IoT sensors that continuously monitor the health of the structures.
Sensors are embedded in concrete structures during the construction process to monitor their lifecycle pre- and post-construction.
Built structures face a myriad of weather conditions throughout their lifetimes. These can include brutally cold winters, hurricanes with coastal flooding, or extreme heat combined with high humidity. As buildings age, their structure can weaken due to exposure to a variety of conditions. Metal rebars that hold a concrete foundation together may deteriorate due to salt ion penetration or tectonic plates shifting deep within the earth may cause a structure to settle differently from its original construction, causing cracking in concrete.
The effects of climate change also play a role in how structures age. As the earth warms, it creates conditions that original designs may not have anticipated. Buildings can change and it is up to asset owners to make sure their properties remain structurally sound for years to come.
Through the installation of industrial internet of things (IoT) technology, owners and contractors can monitor the structural health and integrity of their assets to reduce risk and ensure safe aging of the structures.
The Role of Industrial IoT
Monitoring Structures
From suspension bridges to towering skyscrapers, every structure begins with a solid foundation. But as these structures age, they become susceptible to failure, which is why routine maintenance is so crucial to ensure their longevity. Maintenance is especially important for structures built in sensitive areas, such as coastlines, where saltwater and extreme weather events, such as hurricanes, can inflict damage over time.
An example of this is the tragedy that took place last year at a condominium complex in Surfside, Florida. While the reasons behind the building's catastrophic failure are still being investigated, the incident underscores the importance of monitoring structural integrity, so that such tragedies can be prevented.
Thankfully, structures can be monitored with industrial IoT devices to identify any problems over time, before they can become a serious threat to the asset and surrounding area.
IoT Technology
When a structure fails, usually the concrete has weakened. One of the leading causes for this is chloride ion penetration from exposure to seawater. Steel rebar corrosion due to chloride diffusion is one of the major causes of deterioration of reinforced concrete structures. The corrosion initiates when chloride ions penetrate through the porous concrete and come into contact with steel rebars. Over time, the corrosion propagates through the rebars, which weakens their tension load-bearing capacity. As a result, the structure is compromised.
Where does the value lie with industrial IoT technology? There are several types of sensors on the market that allow building owners, infrastructure owners, and contractors to monitor the health of their assets, such as:
Embeddable Concrete Sensors: Installed during the pouring process when a foundation is being laid to monitor the curing of proper concrete maturity and strength.Seismic Sensors: Detect vibrations within the earth and how they may be impacting structures. This technology allows building owners and contractors to understand if neighboring structures pose any threat to theirs, and vice versa.Environmental Sensors: Measure localized climate conditions, like temperature and humidity, that the structure has been exposed to.
Artificial intelligence (AI) can also be integrated with these sensors. Once data is collected and the AI is trained to identify specific conditions, it can predict what might happen to a structure. Building owners can, over time, predict the future health of their structures and make informed decisions to safeguard their integrity.
Top Things to Consider for Protecting Aging Infrastructure
Construction Practices
Asset owners should take into account if the structure was built using proper construction practices, especially in accordance with geographical location and whether it has been placed in rural or urban locations. Additionally, it should be known if the materials used for construction are durable enough for what the asset is exposed to, such as frigid temperatures or coastal flooding.
Leveraging a Digital Twin
Digital twins are a virtual representation of a physical asset or process. They present enormous potential for understanding the health of structures. This is where industrial IoT can really come into play, because the collection of data acquired through the construction of the building or from sensors installed post-construction allow owners and contractors the ability to monitor and predict the performance of the building. Digital twins provide real-time understanding of what is being stressed in a structure, allowing corrections to be made before issues escalate to extremes.
Climate and Instrumentation Needed to Monitor
Climate conditions are not constant, therefore, buildings developed 20 years ago are subject to effects of Mother Nature that were not present at the time of their construction. In order to make sure assets age safely, owners should consider how the geographic location of the structure may impact it.
Conclusion
The key to built structures aging well is to maintain routine check ups to ensure everything is in working condition. If no technology is in place to ensure infrastructure is aging safely, then asset owners are left to make guesses about the true condition of their assets. Thankfully, industrial IoT is here and ready to be deployed today.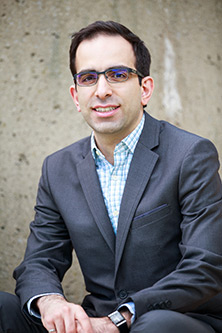 Hamid Alemohammad
Hamid Alemohammad serves as Chief Operating Officer at Brickeye, a construction technology company. He has over 16 years of experience in industrial sensing systems and instrumentation, including Internet of Things (IoT) technology. Hamid is an advocate for commercializing transformative and breakthrough technologies to address global challenges in sustainability. He holds a PhD in mechanical and mechatronics engineering from the University of Waterloo.
The post Safeguarding Aging Infrastructure with Industrial IoT appeared first on Industry Today.