Companies considering re-shoring can find benefits in optimizing production through introducing 3D simulation technology.
Incorporating new technologies can help firms to reach sustainability goals.
By Umair Ejaz, Product Marketing Manager, Visual Components
The political, and economic shocks reverberating around the world mean that re-shoring is a consideration for an increasing number of US companies. The post-COVID forces driving re-shoring are varied, but disparate as they are, they reveal an additional opportunity – production innovation through digital processes.
Cost is seen as one of the most crucial factors driving the decision to re-shore. Research carried out among manufacturers discovered 38% of organizations are planning to re-shore due to current economic factors. Environmental, social, and governance (ESG)standards are also a significant driver for re-shoring, with consumers actively seeking products that can demonstrate green credentials and government regulations cascading down from global sustainability goals, manufacturers are looking for ways to reduce their carbon in the production process.
Adjacent concerns are the post-pandemic supply chain disruption, which has only been amplified by the emergence of war in Europe. A report by Visual Components, based on interviews with senior staff in the US, UK, France, and Germany, found that 44% of respondents consider supply chain stress as the biggest challenge to their business. Other concerns revealed by the research include the increased costs of maintaining overseas operations in several countries along with the spike in transport costs.
"You can have any color as long as it's black"
When Henry Ford developed the model of serial production, customization wasn't an option, but consumer taste has evolved. The clothing and beauty sectors adopted customization some time ago, and now other industries are in hot pursuit. Reshoring allows companies to implement sophisticated leaner production processes that support product variation. From personalized items to OEM manufacturing, small changes can have impacts on both price and distribution channels.
Re-shoring gives companies the chance to incorporate new technologies into their production process. This can help firms to reach sustainability goals through increasing the circularity of resources, thereby reducing waste and contamination. Manufacturers can increase capability, capacity, and innovation through careful process improvements and strategies founded on new technologies, both physical and digital such as cloud, AI, hyper-automation and robotics, reducing waste as a consequence and directly addressing a number of sustainable development targets.
But there are hurdles along the track to re-shoring. There is a shortage of highly-skilled staff on the job market in most developed economies, and reshoring has to be carried out meticulously. Re-shoring will require smarter factories that can adapt quickly to new opportunities or constraints.
Use of simulation enhances re-shoring capabilities
Reshoring provides opportunities for firms not simply to cut and paste their production from one country to another, but to transform their operations digitally. This opportunity requires an understanding of what technologies are available and how best to employ them.
One of these technologies is 3D simulation. Once the reshoring strategy has been created, 3D simulation technology can be employed that provides industrial engineers with a virtual sandbox. These experienced professionals can experiment with various layouts and configurations. Once a production facility has been designed, studying the simulation can suggest alternative solution for operational and process efficiency..
Simulation provides a trial-and-error capability, allowing humans to identify points of failure, both on a large and small scale, and apply best practice techniques. Costly mistakes can be avoided, and new innovative solutions can be developed. Virtual commissioning ensures that each step of the production process functions efficiently before costs are allocated to physical commissioning.
Generating a digital twin and baking in sustainability
To meet the sustainability demands of customers, as well as conform to sustainability requirements imposed by regulators, simulation can be used to minimize resource intensive operations and reduce waste in the end-to-end production process. This can include the re-use of raw materials, forklift actions and AGV transport paths, plus planning time, execution/installation, and downtime.
The use of digital twin technology is another important step. Data generated by sensors and control systems is analyzed in the virtual recreation of the system. This virtual system looks, acts, behaves and communicates with the real environment. Companies that are re-shoring can take advantage of digital twins to lock in sustainability and efficiency gains by experimenting with production flow and autonomous handling of mobile robots with sinuous material flows for packaging and warehousing.
Simulation can remove anxiety from the re-shoring equation
The reshoring boom will only continue to accelerate given the current political and economic climate, but companies must be aware of the complexity of the process and give consideration to how long the process takes. Simulation technologies can transform the re-shoring process by reducing risk anxiety, enabling a smoother transition to localized production that provides tangible benefits in terms of sustainability, agility, and cost optimization.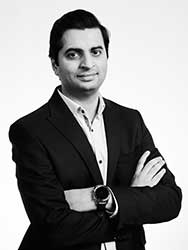 Umair Ejaz
Umair Ejaz has been in his current role as Product Marketing Manager with Visual Components since August 2020. He is a creative technical product marketer and his experience of working with different products including apparel, construction machines and simulation software has uniquely shaped his career and led to him becoming a better storyteller on the products.
The post Re-shoring Empowers Opportunities for Transformation appeared first on Industry Today.