The last few years have seen supply chain disruptions from multiple factors, driving demand for new logistics solutions.
Ongoing Supply Chain Disruptions
The global supply chain has been facing several ongoing delays due to a variety of factors. With the COVID-19 pandemic continuing to take its toll on international trade, port and transport delays are commonplace. War conflict in various parts of the world can also interfere with the transportation of goods, while high cargo costs and labor shortages present significant challenges.
When products are discontinued or service lines cease to exist, it can cause significant disruptions in the supply chain. All of these factors come together to create a ripple effect across the entire system that results in extended delays and increased costs across the globe.
In response to supply chain disruptions, companies have been looking at ways to move goods faster and cost-effectively to meet customer demands. One of the most promising solutions is the ocean and intermodal logistics – combining ocean freight transportation with rail or trucking services.
But to fully reap the benefits of the ocean and intermodal logistics, companies need to understand the strengths and weaknesses of each mode of transportation while also being agile and creative in their approach.
Ocean Transportation
Ocean transportation is a key component of the global supply chain, accounting for more than 90% of all trade. As such, it makes sense to use ships for goods that require heavy transportation or bulk shipments due to their cost-effectiveness and spaciousness. Moreover, ocean shipping is much cheaper than air transport when it comes to fuel costs, while ship routes remain largely predetermined with minimal handling involved – making them far less risky in terms of damage. However, speed is one significant downside to this type of transport. Not only do ships take longer to get from point A to B compared to airplanes, but they are not suitable for urgent shipments which need delivering quickly.
Still, ocean transportation remains an essential element of any supply chain despite its slower pace – especially when coupled with intermodal shipping to create the ideal balance between cost and time. With ocean transport as part of the picture, businesses can move goods around quickly and reliably without breaking the bank – reducing delays in the global supply chain and increasing efficiency across the board.
Intermodal Shipping
Intermodal shipping is an inventive solution that combines two or more modes of transport to get goods from the source to the destination. This method is especially beneficial when shipments must travel over long distances, as it allows businesses to choose the most cost effective and timely option. By combining air, truck, and ocean freight, companies can reduce their overall supply chain costs while ensuring prompt delivery of goods – making it a vital option in today's global environment.
Intermodal shipping also helps to ensure better use of available resources, as a single transfer point is used for multiple shipments. This limits stoppages at various locations along transit routes and maximizes capacity utilization for transport companies – resulting in fewer delays and a more reliable supply chain network that delivers on time. All in all, intermodal shipping offers an effective way to add extra flexibility and reliability to any supply chain without breaking the bank.
Make the Most of Ocean Transport and Intermodal Shipping to Optimize Your Supply Chain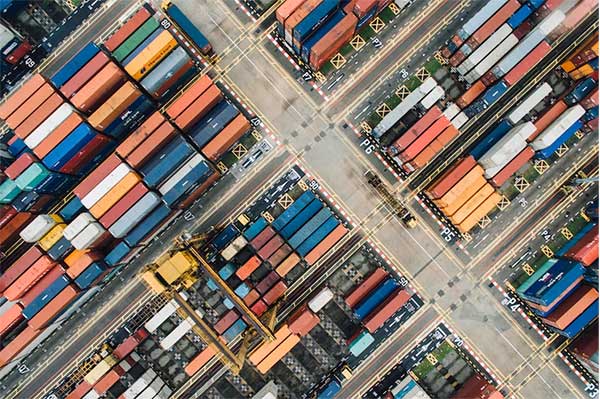 Aerial view of stacked shipping containers at a busy port, ready to embark on global journeys.
Source: Unsplash
Combining ocean transportation and intermodal shipping is the ideal way to create an efficient global supply chain that is cost-effective and reliable. By understanding the strengths and weaknesses of each mode of transport, businesses can ensure that their goods are delivered on time while minimizing their overall supply chain costs. With this approach, companies can rest assured knowing that they are making the most of their resources, reducing delays, and ultimately creating a healthy global supply chain.
By leveraging ocean transport and intermodal shipping in combination with other modes of transportation, businesses can create an effective supply chain network that ensures reliable delivery without breaking the bank. This is especially important in today's uncertain times, where pandemics, political unrest, and economic uncertainty have made it difficult to keep up with customer demand.
David L. Buss
About the Author:
David L. Buss is CEO of DB Schenker USA, a 150 year old leading global freight forwarder and 3PL provider. David Buss is responsible for all P&L aspects in the United States, which is made up of over 7,000 employees located throughout 39 forwarding locations and 55 logistics centers.
The post Quicker and Cheaper with Ocean & Intermodal Logistics appeared first on Industry Today.