Why we celebrate an industry that touches all our lives, daily.
By Jens Irion
The month of October marks a very special period of celebration for manufacturers operating in the United States. And, for many in the industry, it is a personal story with manufacturing careers spanning across generations of their family. Outside those in the field, most people give little thought to the industry that touches their lives in just about every way: from the things they use, to those they eat, drive or fly. At Trivium Packaging, manufacturing is considered "The Foundation For Generations." It is the backbone of society's economic and social health, and therefore the very lever for society's development.
For Trivium, Manufacturing Day is an opportunity to celebrate the Yesterday, Today, and Tomorrow of Manufacturing, both within what we do as a company and overall, as an industry. It is important to remember and learn from the past in order to continuously improve for a brighter and better future. Manufacturing exemplifies this generation-to-generation evolution, as it continues to innovate, create new jobs and new products.
A group as they make their way along the tour at one of Trivium Packaging's MFG Day events
A Celebration of Our Communities
At Trivium, each of our manufacturing facilities are integral parts of the communities we operate in. Manufacturing companies, and businesses in general, are not only employers: they are educators, volunteers, leaders and active members within the community. A successful policy of social and economic development rotates around manufacturing because one job in manufacturing has the domino effect of creating five additional jobs throughout the supply chain. For this reason, it is important for manufacturers to join in on the celebrations. By doing so, we stand together, unified in highlighting the importance that this industry plays both at the micro and macro level.
Each manufacturer has an individual story that adds beauty and pride to the collective story of manufacturing in the USA. Inside our facilities there is innovation; there are high-tech machines; there is problem solving and teamwork. Exciting things happen inside our doors, and we need to be able to display that.
Engaging a Future Generation
This is the 2nd year in a row that Trivium Packaging USA has decided to participate in this national event. We are deeply proud to work in the manufacturing industry. The products we make touch the daily lives of people around the world, and we are pushing the boundaries of packaging by creating sustainable solutions. We are doing the right thing, and that is part of our value proposition.
This year, we chose to celebrate Manufacturing Day by focusing on students and their parents because we have a role to play in educating the public of the importance of manufacturing as a sustainable career path: we must be proactive. For too long, the discourse has been focused only on the college journey, when college is not the only choice (or the right choice) for everyone. This, coupled with the chronic prolonged public disinvestment in workforce education and training, caused a massive decline in talent for the trade industries.
In addition, there is a paradigm shift starting, a push back against current norms as younger generations examine what they want out of life, how they want to live, and what makes them happy and fulfilled. In most of our plants, those in plant management and leadership positions started on the shop floor. Those years of training, learning and knowledge enable them to lead teams of multimillion manufacturing facilities and make a significant contribution to their communities and colleagues. The flexibility of the career path is unparalleled.
Hence, we have a duty to inspire the next generation to start careers in manufacturing to position ourselves as the employer of choice and meet customer demand. But it's not only a business need, it's the right thing to do. The future of manufacturing relies upon fresh new talent and ideas, rising up and growing in the space, leaving a legacy for others as generations before us have left a legacy and opportunity for all of us.
Manufacturing has far-reaching effects on other industries, communities, and society as a whole. It is something to be celebrated and we hope to do it justice, even if just for one day.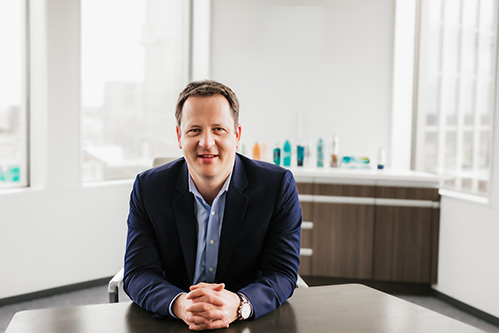 Jens Irion
Jens Irion is the President of the Americas and the global Aerosols & Beverage business of Trivium. Prior to the formation of Trivium, Jens was Chief Commercial Officer of Ardagh Metal Packaging North America, after holding a number of business development and strategy roles at Ardagh Group and Rexam Plc. Previously, he was a Senior Principal at Boston Consulting Group, where he focused on clients in the industrial goods sector. Jens holds an MBA from MIT Sloan School of Management and an MA in Industrial Engineering from Karlsruhe Institute of Technology.
The post Manufacturing Day: A Celebration for Generations appeared first on Industry Today.