Chubb's Mike Williams and Erik Olsen discuss the risks posed by complex automated systems in warehouses and distribution centers.
by Mike Williams, Executive Vice President, Manufacturing Industry Practice, and
Erik Olsen, Senior Vice President, Property Center of Excellence Leader, Risk Engineering Service
The rise of automated systems in storage environments such as warehouses and distribution centers began before COVID-19 but greatly accelerated during the pandemic due to factors including labor shortages, an increase in online shopping and a shift in how retail trade is transacted.
Supply chain challenges have also contributed heavily to increased demand for automation. According to data from Chubb and the National Center for the Middle Market, 59% of middle market manufacturers (one of the main industries utilizing storage environments) were directly impacted by supply chain disruptions or constraints in the second half of 2021. To mitigate the impacts on their business, a third of this group (32%) keeps excess inventory on hand.
As manufacturers, retailers and others seek to maximize efficiency with their storage operations, they may increase their reliance on automation. When making storage facilities more sophisticated and incorporating new technology, it's critical to stay aware of potential risks. The following are key considerations to keep in mind.
Potential risks resulting from increased automation
As automation becomes increasingly prevalent from the factory floor to warehouse and distribution centers, free-roaming warehouse robots have become a more common sight. While these machines can increase the efficiency of a warehouse environment, they also pose unique risks due to how they are powered and their autonomous nature. Lithium-ion batteries power a large portion of autonomous robotic solutions found in modern warehousing. For example, they are often used to power robots within automated storage and retrieval systems (AS/RS). Lithium-ion batteries present unique fire hazards due to their exposure to thermal runaway, a phenomenon in which the lithium-ion cell enters an uncontrollable, self-heating state. Additionally, these self-guided, automated material handling robots create the danger of becoming a moving fire hazard, making what was traditionally a static exposure more of a dynamic fire danger to the entire warehouse environment. 
Another unique threat brought about by free-roaming warehouse robots is that of liability in the case of a collision between machine and human. While worker safety around robotics in the U.S. is not a new concern, incidents related to the use of these new machines such as collisions, can and do occur, and the introduction of automated guided vehicles into these environments introduces a new set of risks around which the business must be prepared.  
Mitigating Risk
Since increased automation introduces new dangers, there are measures that companies should take into consideration when developing risk mitigation plans for their new storage facilities:
Fire & Liability
Program automatic shutdowns of robots; this is vitally important in a fire situation to prevent a multi-seated fire scenario that can quickly overwhelm the sprinkler system.
Ensure that the robots automatically stop when a fire alarm is triggered and only move the minimum distance necessary to ensure they are not blocking exit doors or egress routes.
Review fire sprinkler system installation with local fire officials, insurance carriers, and distribution partners, to ensure that it is capable of adequately controlling fire involving robotics and automated storage systems.
Install temperature sensors inside the robots and chargers which log temperature data and can shut down an individual bot or charger and report a system error if it gets too hot – in order to prevent thermal runaway.
Ensure the fire department has a formal written emergency response pre-plan to address the presence of robotic automation and lithium-ion batteries.
Train employees on the potential dangers of autonomous robots, and how to best avoid accidents.
IT & Hardware
Implement automatic emergency braking for free-roaming robots to avoid unintended collisions with workers or other robots.
Maintain a robust "lock out tag out" to ensure that equipment is shut down and inoperable until maintenance or repair work is completed so that employees remain safe from any dangerous equipment.
Remain mindful of exposures created by third parties, such as contractors working on their premises. Working with experts in drafting contracts is essential in protecting against lawsuits arising out of an injury to a third party on company premises.
Maintain strong IT infrastructure to ensure that all automated processes are running smoothly without posing a risk to employees.
Insurance Considerations
As they increase their reliance on automation, manufacturers, retailers, and other industry groups that utilize storage facilities should employ a comprehensive risk strategy to minimize risks as much as possible. Additionally, they should also work closely with their insurance agent or broker to ensure they have the insurance coverages they need to help stay protected in the event an incident does occur.
Companies should keep their insurance partners informed of any changes to their operations so that they do not introduce any unintended coverage gaps. It may also be valuable to consider specific insurance policies and review limits to help ensure that their coverage is sufficient for the new/evolving risks they are assuming, including fire, property, and workers compensation.
The Way Forward
As companies look to enhance and advance their warehouse and storage capabilities, they must remember that they are not alone. Together with their insurance agent or broker and insurance carrier, firms can help keep their storage capabilities running smoothly and safely, while continuing to adapt to shifting global demand for their goods. With the proper expertise, risk mitigation strategies and insurance solutions, including sufficient policy terms and limits, companies that rely on warehouse storage can continue serving their customers' needs.
This document is advisory in nature and is intended to be a resource to be used together with your professional insurance advisors in maintaining a loss prevention program. It is an overview only, and is not intended as a substitute for consultation with your insurance broker, or for legal, engineering or other professional advice.
About the Authors: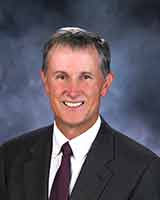 Mike Williams
Mike Williams is Executive Vice President of the Manufacturing Industry Practice for Chubb with responsibility for growth and profit of the Manufacturing segment within North America – a role he has held since 2018. He originally joined Chubb in 1989 in Seattle as a commercial underwriter. In the years since, Mike assumed increasing levels of leadership responsibility, including opening and running Chubb's second production office (Fresno, CA) and managing commercial lines in Denver and Northern California. In 2013, Mike assumed the role of Executive Field Underwriter for the West and Southwest regions.
Mike holds a bachelor's degree in Business Administration from Washington State University.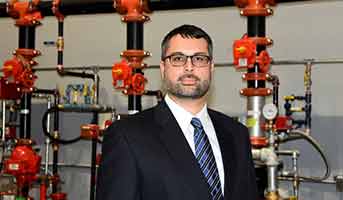 Erik Olsen
Erik Olsen is Senior Vice President, Property Center of Excellence Leader, Risk Engineering Services at Chubb. Erik began his risk engineering career in 1999 at Chubb. He spent his early career as a risk engineer for property & casualty survey work ranging from life science to heavy manufacturing accounts. Erik specializes in property protection risk engineering and complex evaluations for industrial and commercial facilities, and property conservation for large properties and construction. He became an Executive Property Specialist in 2016, with responsibilities spearheading global Chubb property engineering technical initiatives ranging from development of technical guidance on existing and emerging issues, fire protection, natural catastrophe and attritional perils, and supporting executive underwriting initiatives.
Erik is a regular instructor at Chubb's Risk Engineering Center, where he regularly provides fire protection training for a variety of audiences.