With Direct-to-Consumer Commerce, manufacturers can proactively engage customers and create new pathways to profitability.
By Gerry Szatvanyi, CEO of OSF Digital
A myriad of market challenges has made the margin for error across manufacturing tighter than ever before. In the spring, U.S. factory activity grew at its slowest pace in more than 18 months amid a rise in workers quitting their jobs and rising concern of COVID-driven global supply chain disruptions expected this summer. From labor shortages and ongoing supply challenges to higher raw material costs associated with economic inflation, manufacturers are operating in extremely volatile times. Every sale – and especially every lost sale – has a direct impact on their bottom line.
With the stakes so high, manufacturers need to embrace the adoption of digital transformation for revenue generation and business growth. That starts with understanding the importance of direct-to-consumer (DTC) commerce in a digital-centric market environment. In addition to deploying traditional business models that distribute products through retailers, wholesalers, and third-party vendors, manufacturers should also leverage DTC commerce as a tool for creating new pathways to profitability. It's the most effective way for brands to proactively engage customers, increase profits and navigate market volatility with data-driven decisions.
Adapting to Evolving Customer Expectations  
As consumers increasingly pivot from physical brick-and-mortar stores to omnichannel purchasing, DTC commerce allows manufacturers to align with their evolving behaviors and expectations. Today, customers value personalization and convenience above all when making buying decisions. They'd prefer to engage and buy directly from their favorite brands and have products delivered straight to their doorstep on quick turnarounds. The manufacturers that are best positioned to meet these expectations will elevate their brand loyalty above industry competitors.
DTC commerce, which enables manufacturers to sell products directly from their own e-commerce platform, provides an avenue for doing that. With the right DTC commerce framework in place, customers can view and purchase products across multiple channels from any location, further promoting a seamless and personalized shopping experience to the last mile. DTC commerce also gives manufacturers complete control of their production, marketing, and distribution efforts to ensure all three facets are tailored to their target customers. Above all, it places the power back in the brand's hands.  
Creating Additional Revenue Streams
The U.S. DTC commerce market across manufacturing is expected to exceed $174 billion by 2023. Among the 43% of American consumers already familiar with DTC brands, seven in 10 made at least one purchase directly from that manufacturer throughout the past year. And over the next five years, 40% of consumers expect that at least 40% of their spending will go toward DTC brands. The return on investment of DTC is evident. Why not capitalize on it?
By adapting to evolving customer expectations with streamlined DTC offerings, manufacturers can quickly create additional revenue streams that boost profit margins. Unilever, for example, leveraged DTC to grow its online sales by 38% and account for 12% of all revenue in the third quarter of 2021. In traditional models, manufacturers only generate revenue on the markup between production costs and gross sales. With DTC, however, new revenue streams are created by:
Cutting out unnecessary expenses associated with retail sales commissions and display space chargesSelling products at or near the manufacturer suggested retail price (MSRP) for higher margins Widening customer reach beyond distribution and channel partner geographiesAdjusting and aligning promotions with frequently purchased product combinations and seasonal demand
The vast range of additional revenue, in turn provides financial flexibility to weather economic downswings and supply chain disruptions.  
Expanding Access to Critical Customer Data Insights
Because manufacturers traditionally sold to consumers through retailers and marketplaces, they previously never had extensive access to first-party customer data. In an era of rapid digital transformation, continuing to neglect the value of this data simply isn't sustainable. A DTC commerce approach enables brands to enrich their own customer data platform (CDP) with e-commerce sales data that details their customers' preferences and purchasing habits. The extensive and actionable data-driven insights can empower them to further personalize end-to-end customer experiences and strengthen their marketing strategies.
For example, a DTC packaging manufacturer can use its CDP insights to segment customers by product type or order volume. That way, the enterprise isn't marketing bulk orders of shipping boxes to customers who are seeking smaller quantities of gift bags and vice-versa. It also allows manufacturers to test new product offerings in a cost-effective manner by automating the collection and analysis of market acceptance data. If CDP data indicates that a fashion brand's latest line of sweatshirts is failing to garner interest from core customers, the company can quickly halt production to avoid high volumes of excess inventory that fails to sell and eventually becomes environmentally harmful waste.
Conclusion – The manufacturers that embrace the role of DTC commerce in an evolving market environment will be better positioned to navigate volatility moving forward. Rather than viewing it as a risky investment, it's time to consider DTC commerce as a revenue-driving opportunity to capitalize on.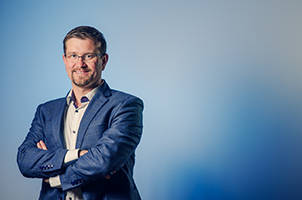 Gerry Szatvanyi
Gerry Szatvanyi is the CEO of OSF Digital, a top digital transformation and leading global commerce solutions company to some of the world's most well-known brands.