How manufacturers can improve disaster avoidance strategies to sidestep issues with downtime in 2023.
By Ed Spears, Technical Marketing Manager, Eaton
It takes a lot of planning for manufacturers to stay on top of production demands, but there are some things that just can't be scheduled. Major weather disasters can strike at any time and for those caught off guard, these events could cause significant issues with power outages that bring operations cycles to a prolonged halt.
As extreme weather events continue to grow in intensity, it's important for manufacturers to evaluate their disaster preparedness plans to help protect against potential downtime. Below are just a few examples of major power outage incidents that impacted communities in 2022.
Six Significant Power Outages
Catastrophic chaos – Initially making landfall on Sept. 28 near Fort Myers, Florida, Hurricane Ian roared ashore at 150 mph and left more than four million Floridians in the dark. The Category 4 hurricane – the deadliest to strike the state since 1935 – continued to wreak havoc over the next two days, knocking out electricity for nearly a million people in North Carolina and South Carolina. Five days later, roughly 580,000 business and residential customers in Florida remained without power.
Deluge in December – Two days before Christmas, a powerful arctic storm knocked out power for more than 1.5 million people across 25 states and Canada. From fierce blizzard conditions to wind gusts exceeding 60 mph, perilous weather raked the eastern third of the nation, leaving nearly 200,000 in the dark in North Carolina alone. Tennessee, Maine, New York, Pennsylvania, Virginia, Connecticut and Georgia each had tens of thousands of outages as a result.
Thunderous blackouts – More than 586,000 residents and businesses in Toronto lost power on May 22 when destructive thunderstorms rumbled across Ontario. A day later, Hydro One crews were still working to restore electricity to more than 226,000 customers, hampered by widespread damage that included at least 800 broken poles, 800 downed power lines, and countless trees and large branches. In Ottawa, four transmission towers were toppled by the storm, requiring the utility to construct a temporary bypass in order to restore power.
New Year's nightmare ─ Mother Nature rang in the new year with quite a punch, unleashing a fierce snowstorm Jan. 3 that pummeled the South and mid-Atlantic. Five people were killed and more than half a million were left in the dark as heavy snow snarled traffic and shut down much of the federal government in Washington, D.C. Residents in Maryland, Virginia, Georgia, Tennessee and the Carolinas were also impacted.
The outage didn't fall far from the tree – Intense winds were blamed for a Nov. 4 outage that knocked out power to 330,000 residents across British Columbia. Crews worked overnight to restore power after wind toppled over drought-weakened trees and branches, causing them to interfere with BC Hydro's electrical equipment.
April showers bring … loss of power – Back-to-back storms in April 14-15 brought heavy snow and strong winds to Ontario, causing significant damage from downed power lines, broken poles and tees falling on lines. It took two days to fully restore power to the more than 257,000 residents that were left without power.
A UPS protects productivity by providing enough runtime to maintain operations during an outage.
Don't be left in the dark
While manufacturers must measure their risk for weather disasters, they should also consider their demanding operational environments. Deploying an uninterruptible power system (UPS) that's designed to withstand harsh environments can help ensure that IT equipment has critical power during an outage and keep infrastructure operational. Pairing these devices with other industrial-grade components, such as surge protectors and power distribution units, can help create a fully functional power management system for when unplanned events hit.
Changing IT requirements also come into play as manufacturers and their IT teams weigh potential power management upgrades. Digital transformation, for example, continues to advance in manufacturing as companies look to gain an edge over their competition. Amid this transition, disaster avoidance software can be a critical resource for IT staff to use in overseeing their infrastructure – monitoring device activity without needing staff at every plant or IT facility.
Monitoring software can go hand-in-hand with other advancing technology tools, such as predictive analytics. These services give manufacturers the ability to gather information on power trends over time, allowing IT teams to use the data insights to make better decisions and create efficiencies in their operations through proactive maintenance.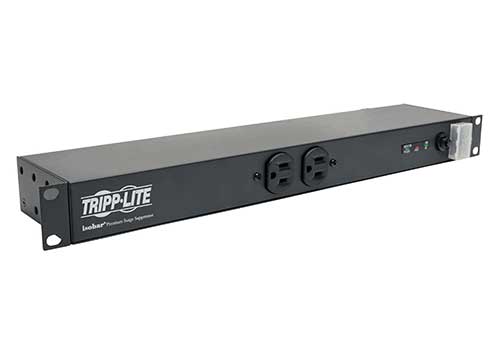 Industrial-grade power components are built to withstand harsh operating environments.
Clearer skies ahead
Manufacturers may not be able to predict exactly when a major storm will hit, but that doesn't mean they can't be prepared. Understanding their proximity to events such as hurricanes or snowstorms, combined with the challenges of their evolving IT infrastructure, can help provide a solid foundation for a comprehensive power protection strategy. Combining intelligent technology with enhanced power management tools will help to ensure manufacturers are best positioned for what Mother Nature may bring in 2023.
Ed Spears is a technical marketing manager in Eaton's Critical Power & Digital Infrastructure Division in Raleigh, North Carolina. A 40-year veteran of the power-systems industry, Ed has experience in UPS systems testing, sales, applications engineering and training — as well as working in power-quality engineering and marketing for telecommunications, data centers, cable television and broadband public networks. Find more information at Eaton.com.
The post Lessons Learned from 2022's Significant Power Outages appeared first on Industry Today.