Strategic partnerships and advanced technology are transforming the way the manufacturing industry approaches sustainability.
By Prasoon Saxena, President of the Manufacturing Business Unit at NTT DATA Services
While sustainable efforts are top of mind for many businesses, calculating the impact those efforts have on the environment is a daunting task – let alone trying to find solutions to achieve them. With growing pressure to build transparency and sustainability into business operations, organizations are scrambling to fulfill these demands. SEC mandates for companies to report on emissions as proof of compliance means that organizations must track and inform on both direct and indirect emission levels, based on the nature of their respective industries.
This method, while well-intended, is ineffectual. Organizations collect consumption data after the fact, making the approach reactive in nature. By saying they have x percent of consumption against y volume of production month-over-month, companies are not identifying solutions so much as sharing the problem after it's happened.
So, how can we go about effectively reducing the consumption and emission levels directly and indirectly? Right now, there is no systemic way to capture data tracking and reporting on enterprise emission levels. Consequently, there is no scope for optimizing energy sources to reduce our overall carbon footprint.
But we shouldn't abandon all hope just yet. The rapid emergence and deployment of advanced technology across industries at the same time as a growing demand for sustainability has led companies to identify alternate solutions based on this technology. NTT DATA is a great example. With the support of strategic partners, it launched a digital twin platform that resolves the issue of reactive data by supplying live data and support for consumption management. The platform directly connects with the energy sources – from shop floors to building systems – whereby it feeds data directly to the platform. This grants greater visibility for the company leaders and environmental teams to identify consumption levels and levers by which to reduce or optimize consumption.
"It's all about liberating data to report the rate of energy usage – including electricity, water, any energy source that can connect to data sources like electricity power meters – to understand the consumption more strategically, like how much water is consumed in an operation versus steam," informs Tony Harris, President & CEO, e-Magic. "In doing so, the platform makes it possible for companies not just to reduce emissions, but also elevate production."
Right now, companies struggle with the mandate to be carbon neutral as existing processes involve guesswork on current consumption rates. The promise of new technologies and solutions, such as the digital twin platform, lies in the accuracy of their calculations and predictions. Organizations and facilities can use this cohesive model to confidently measure data with real-time visibility, calculate and integrate emission factors, develop analytic reports, and identify their timeline to carbon neutrality.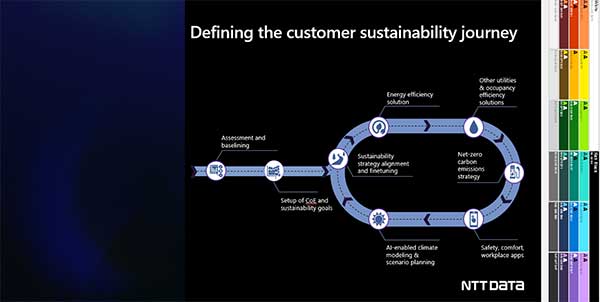 Advanced technologies play a big role in developing sustainability solutions – but this is not possible without the collaborations fostered to create and implement them. NTT DATA's end-to-end sustainability solution was developed in partnership with e-Magic, combining their resources and technologies with Microsoft Azure Digital Twins to provide organizations with the ability to model the real world and connect enterprise and IoT data at the edge to their digital twins in the cloud.
Deploying such technologies through strategic collaboration not only allows for greater data connectivity, carbon detection, and energy optimization; the biggest differentiator is that it brings lots of different components together to create a cohesive, intelligent, and adaptable solution. Much of the work customers normally need to do with reactive methods is already done, and as it mostly relies on the cloud, the solution does not require investment into capital infrastructure, thereby reducing the time and cost involved in generating those values. This also makes it quicker to integrate and use with environmental sensors and different vendors. Now we can look at solutions to be activated in eight to 10 weeks rather than several months. Although still in its early stages, the alternative solution has already demonstrated significant cost reduction for the customers deploying it.
One of the biggest challenges with sustainability solutions is not just the absence of available solutions but the cost, time, and significant effort needed to implement them. Relying on guesswork, manual collection and calculation of data sets and dispersed invoices, and the need to revamp your existing physical infrastructures has made it difficult, if not impossible, for small- to mid-sized businesses to opt for sustainability. But this is also difficult to convey to consumers who seek instant gratification. As a result, businesses lose out on customers, revenue, and cross mandates due to lack of capacity to meet these heavy standards.
But where traditional approaches have failed, modern solutions – including cross-industry partnerships and smart technology – are likely to excel. Modern solutions are looking beyond 'standards' to focus on 'agility' – customizing to the needs and resources of clients, affordable to invest in, and easy to implement. Scope three emissions aren't straightforward; they require working with a variety of suppliers, manufacturers, etc. That's where companies can focus on leveraging this technology and strategic partnerships to bring a collective ecosystem into play, combining Microsoft's wide audience reach with the innovative technologies of its partners to create long-term sustainability roadmaps.
Still, not everyone has the luxury to completely pivot over to more contemporary approaches to sustainability. Again, this is where the agility of modern solutions and advanced technologies comes into play. Businesses can now opt to start with a small pilot for one building, project, or factory and progressively continue to build on it, which helps budget-conservative and smaller customers scale it for their organizations as needed.
What does this mean for the manufacturing industry?
Although still in its early stages for enterprise efforts, the conversation around sustainability has become quite popular among customers. Energy is a big concern and due to consumer demand, it will quickly become an enterprise-wide focus. Those of us working with manufacturing data believe that some in the manufacturing industry are moving past timely support.
Soon enough, demand for sustainable solutions for supply chains and the impact of scope three emissions on your supply network mean the manufacturing industry will be under a more watchful eye on how their products are being manufactured and used. Industry experts need to catch up and pay attention to understand the effects of value chains and use consultants and data analysts to help decipher and analyze their data, especially as more clients and partners start to need this information to help them scale.
More and more customers are looking for collective capabilities for their sustainability portfolios. NTT DATA's solution is the first of many that could pave the way for a dynamic, transparent, cohesive approach that aligns with the industry ecosystem to advance sustainability. And in doing so, companies don't just satisfy customers and meet required mandates. Taking clients to net-zero carbon emissions with these solutions helps them target blind spots in data, reduce costs, create new products and services, and improve the company's operational efficiency, employee experience, and as such, the overall brand.
If that isn't temptation enough, envision the future in two or three decades, where sustainability is priority. The decisions that you as a company, or even as an industry, make around sustainability solutions today could very well make or break you in the future.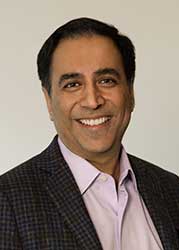 Prasoon Saxena
About the author
Prasoon Saxena is President of the Manufacturing Business Unit at NTT DATA Services ($30 billion global innovator of IT and business services). In this role, he is responsible for profitable growth, industry strategy and client satisfaction through modern, innovative solutions.
With more than two decades of global leadership, Prasoon is intensely passionate on driving value, innovation and trust while delivering on business outcomes for his clients. With extensive experience from the manufacturing sector and professional services industries, he has rapidly built the portfolio through value-differentiated partnerships with leading manufacturing clients, enhanced NTT's brand recognition at industry forums and with analysts and CXOs. Prior to joining NTT DATA, Prasoon held leadership positions with Dell Services and Wipro Limited.
Prasoon completed his bachelor's degree in Electrical and Communications Engineering at Nagpur University. He also completed a Client Executive Program at The Wharton School of Business.
For more information, please contact:
PAN Communications
[email protected]
The post Leading Sustainable Manufacturing with Smart Technology appeared first on Industry Today.