To make critical U.S. infrastructure projects a reality, talent with the necessary knowledge and skillset must be developed and secured.
By Brantlee Underhill, Managing Director, North America, Project Management Institute (PMI)
Since President Biden signed the bipartisan Infrastructure Investment and Jobs Act (IIJA) into law, $1.2 trillion has been earmarked over the next 10 years to improve the country's infrastructure, with funding already distributed to 6,900 projects in all fifty states and U.S. territories.
These projects are critical, and Americans agree significant improvements to our infrastructure systems are needed. According to a survey conducted by PMI on the state of the U.S. infrastructure the majority of respondents cited roads and bridges, climate change protections, public transit, and water supply were listed as top priority areas.
But the question remains: in addition to the funding, do we have the talent to complete these projects safely, sustainably, on time and within budget?
PMI research indicates more than 61 million project management positions will be open in manufacturing and construction by 2030, a 13% increase since 2019. This is not including the more than 1.5 million infrastructure-related jobs estimated to be added to the economy over the coming decade, or the estimated 41% of the U.S. construction workforce expected to retire by 2031. To address impending labor shortage, leaders in infrastructure-adjacent fields must act swiftly to ensure the necessary talent is secured to manage these large, complex projects. However, many leaders find themselves wondering where to start.
So, what does this look like in practice?
Professionals leading infrastructure projects are building the cities and systems in which the next generations will live.
Reskilling and upskilling are paramount.
With the U.S. unemployment rate at 3.4% in January 2023, leaders must ensure their workforce has the skills and knowledge to deliver infrastructure projects successfully.
Necessary talent includes having certified project managers at the helm of every project. A certification like the Project Management Professional (PMP)® helps to ensure dollars are spent wisely and projects are carried out effectively and efficiently. Another resource to consider is the Construction Professional in Built Environment Projects (PMI-CP)

. The PMI-CP focuses on skill building like scope and change order management, performance and materials management, and contract and risk management — all essential for construction projects.
And as construction organizations look to quickly counter novel challenges like long-standing supply chain vulnerabilities exposed by the COVID-19 pandemic, emerging technologies, and climate change impacts, a platform to convene, share ideas, and gain new perspectives is key. Professional memberships can solve for that need. They not only offer a platform where professionals can connect on the unique opportunities and roadblocks they are facing, but also provide ways to network and even volunteer.
More organizations are positioning reskilling and upskilling opportunities to their teams and prospective talent, especially when targeting a younger demographic. When approaching a younger workforce, organizations should emphasize the potential of these projects – and those who oversee them – to shape the cities and systems in which they and subsequent generations will live. This gives context to these critical projects and inspires those interested in making an impact to continue their professional development journey, so they too can bring the change they want to see to their communities.
Foster interpersonal skills on teams.
In addition to the technical skills, the ability to master interpersonal skills – or behaviors that enable people to succeed through human connection – will ensure professionals are able to operate and deliver positive project outcomes in fast-moving, high-pressure environments.
These skills include communication, collaboration, and creative problem solving. Without mastery of them, projects are destined to take longer and cost more – issues that can impact the confidence of taxpayers who are dependent on the infrastructure investment to transform and modernize the systems on which they rely.
In fact, PMI's survey showed only 37% of adults are confident in the government's ability to perform infrastructure improvements in their community. This shows there is no room for error, long lead times, or public projects going over budget. By fostering teams with strong intrapersonal skills, leaders can ensure their infrastructure projects are delivered efficiently and economically, acting as good stewards of the taxpayers' investment.
Align teams on common goals.
Once you have the people and plans in place, ensuring professionals are set up for success, it's important your people are aligned on project goals, objectives, and strategy. Gone are the days when leaders make decisions, pass decisions onto their teams, and say "get to work." Co-creation is crucial in today's workforce, infrastructure projects included.
While your employees may not be directly impacted by a specific project they are working on, we are all affected by infrastructure-related projects in some way, so any effort to engage in co-creation in strategy and planning, with the appropriate guardrails in place, proves to your people they're collaborating on something bigger — something important for the greater good.
Upskilling and refining the abilities of project professionals will narrow the talent gap and reduce the likelihood of infrastructure project delays and scope creep. It's up to leaders and project professionals to help make these U.S. infrastructure projects a reality.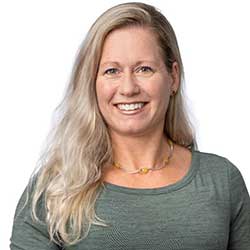 Brantlee Underhill
Brantlee Underhill has been with Project Management Institute (PMI) for more than 20 years and serves as Managing Director, North America. In this role, she's responsible for the North America regional business plan, execution, and performance. She also oversees the development and direction of PMI's global chapter and volunteer initiatives. Under Brantlee's leadership, PMI Chapters and volunteers worldwide are enabled with innovative engagement opportunities and resources needed to thrive in today's market. She has led the establishment of PMI offices in Dubai, Singapore, and Brussels and oversaw business development planning for regional markets, including Latin America. Through her work, she contributes to social impact and equity while enabling better value through the connection and advocacy of the project management profession. Brantlee has a bachelor's degree in German, Russian, and Political Science from West Chester University. She's a Certified Association Executive (CAE) through the American Society of Association Executives. She is based at GHQ.
The post Leaders Must Act to Support Infrastructure Investment appeared first on Industry Today.