The acceleration of digital transformation caught many manufacturing sales teams by surprise. Here's how sales teams can keep up.
Manufacturing businesses have faced intense challenges over the past few years. There was, of course, the pandemic, but there was also a historic labor shortage and severe supply chain issues, all of which contributed to an overall stagnancy in the industry and a decline in the number of new manufacturing companies.
One of the subtler challenges for the manufacturing industry has been keeping up with buyer expectations. The shift to digital processes accelerated because of the pandemic, but in truth that change was already underway. Today, buyers expect all their vendors to know and understand the unique requirements and challenges of their particular businesses. They want you to cater to them and customize your offerings. They want you to read their minds. They want you to know exactly what they want based on the information they've already given you on the path to purchase.
It's not that you don't have the data. With the rise of omnichannel marketing, most companies are able to collect all the digital breadcrumbs that their prospects leave scattered about the internet. You know when a prospect has visited your website, watched a webinar, and followed a channel partner on social media. You have an intimate view of their buyer team personas. The challenge lies in providing all this information in a meaningful and timely way to your sales reps.
What's more, your salespeople know this. Research shows that approximately 40% of sales reps don't feel prepared for their interactions with buyers. The seller's time limitations and lack of specific knowledge of the client's company and industry negatively affect the quality of the encounters. And as buyers spend more time doing their research and less time speaking to your reps, every interaction counts.
Enabling smarter customer interactions
In an ideal world, every time your sales reps speak to a prospect, they would move customers forward in their buying journey. Your sales team would know the problems that buyers are facing, the questions they're likely to have, and what content they're going to need to get to the next step in their path to purchase. The sales reps would feel empowered, and buyers would feel understood.
In reality, sales reps don't have the tools at their disposal to make this happen. Because all the data is usually kept in a number of different silos, the sales team lacks the necessary insights about a buyer. As a result, the marketing team doesn't know what content is most useful to the sellers because they don't have any idea of which salespeople are using what and when. In many instances, the content that buyers need already exists, but sales teams don't have an easy way of finding it.
Right now, the onus is on each individual salesperson to dig up all this information, find the content, and have an effective conversation with the buyer. Instead, the paradigm should be shifted to push that information out to sellers. Manufacturing and industrial companies need to invest in a content management system that connects all the various silos together and empowers sellers by giving them everything they need for that customer at that point in the sales cycle.
A CMS built for selling
Your CMS should catalog the content that you already have and make it readily available to sellers. Free up your sellers to focus on the sales interaction. Your sellers are busy enough—they shouldn't have to spend valuable time digging for curated content or even creating it themselves. At the very least, the content should be easy for them to find: research shows that 80% of buyers expect a real-time response to their questions and requests.
You should also set up some basic rules in your CMS to help anticipate seller needs. For example, if a buyer has attended a webinar about supply chain concerns, it is likely that they are going to have questions about how they can count on your products to navigate supply chain disruptions. So, if a particular buyer persona shows up on a call, for instance, the seller should be prompted with content to anticipate the concerns and questions that this buyer persona is likely to have. Your CMS should push this knowledge to sellers, letting them focus on the conversation rather than scrambling to find relevant content or purchase path information.
Help prepare your sales teams
Finally, your sales team should be familiar with the value of what they're selling to escape the price-focused trap of a commodity sale. In the past, sellers were able to lean on customer relationships to make up for a lack of readiness or an in-depth understanding of how to apply the value proposition. But today, as the market grows more crowded and differentiation shrinks, buyers need to know exactly how your products or services are going to make their lives better, easier, and more efficient.
In the face of an ever-more complex buyer path to purchase, enable your sales reps with the knowledge and training to meet buyers where they are on their journey. It's not enough for manufacturers to simply deliver great products anymore. Today's B2B buyers expect excellent buying experiences to go along with those products.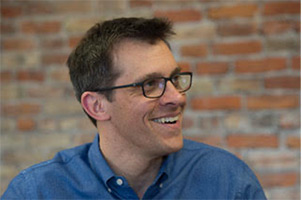 Hans is the founder & CEO of StorySlab, a sales enablement platform for field sales teams that drives customer engagement and increases visibility in how to improve teams.  He has spent more than 30 years in B2B sales, business development, communications, and marketing.
The post How to Help Your Sales Teams Meet Buyer Expectations appeared first on Industry Today.