Uplevel data management, enable real-time insights, and promote innovation with an effective multicloud strategy.
By Jeff Nygaard, Executive Vice President of Operations and Technology at Seagate
Industry 4.0 sits on an untapped gold mine of its own data. Built on a foundation of smart factories, IoT devices, robotics, and artificial intelligence, manufacturing companies have more data than ever to inform their business decisions. Having more data is better than not—if you can use that data. Access to more data can lead to deeper customer insights, enable better product design, and help plan production cycles for ebbs and flows in demand.
But managing and turning a large volume of data into usable insights is challenging. To do it successfully, manufacturers need to implement mature data strategies harmonizing connected devices, edge computing and the multicloud ecosystem.
Companies that manage data efficiently can make better and faster decisions. They are more flexible and react more quickly to emerging trends and shifting market conditions.
Plethora of Connected Devices
The global number of Industrial IoT connections is expected to increase from 17.7 billion in 2020 to 36.8 billion in 2025. During the pandemic, some manufacturers increased their use of IoT devices to create production efficiencies that allowed for greater social distancing. They turned to remote asset monitoring in order to reduce the need for in-person inspections. As the manufacturing industry continues to deploy more connected devices, it will realize increased production and labor benefits. For example, the use of sensors that continuously monitor machines that detect malfunctions before they happen results in reducing costly production downtime. More connected devices also mean more data for manufacturers to draw insights from.
Data at the Edge
In 2018, only 10% of enterprise data was created and processed outside the data center. By 2025, that amount is projected to grow to 75%. The proliferation of connected devices means that a company's data is often stored at the edge, shifting the center of data's gravity. The more data moves to the edge, the more it attracts other data as well as applications and services.
This creates new challenges for companies that used to rely on a centralized location for their data. Rather than continuously transfer data to the cloud for analysis, companies increasingly use edge processing for faster time to value. Edge computing enables real-time insights across a manufacturer's facilities and supply chain. It means the ability to monitor quality control of products coming off a line or track warehouse conditions to ensure the safe storage of food or medication. In order to unlock the value of their data, manufacturers must move data workloads from edge devices to a centralized cloud and often among multiple clouds. To do this efficiently requires a multicloud strategy with predictable costs and the scalability and flexibility that enables innovation.
At Seagate we're familiar with the unique data challenges in manufacturing. Thousands of smart tools throughout the company's manufacturing process generate an enormous volume of data, some of which is stored locally at the edge locations and some at secondary aggregation points. It's a careful balance to manage the edge data informing real-time decision making in facilities with the data that is aggregated centrally for long-term business planning.
Data in the Multicloud
The growth in connected devices means that manufacturers have more data than ever to store and analyze. As a result, many manufacturers have deployed a multicloud strategy.
But as the volume of data increases, it can become prohibitively expensive for a manufacturer to move data workloads from its edge devices to the cloud and among multiple clouds. This restricts the ability to gain insights from their own data.
Some organizations find a way out. Those adept at navigating multicloud costs and accelerating innovation in the multicloud are 5.3 times more likely to beat revenue goals by 10% and 6.3 times more likely to go to market months or quarters ahead of their competition. Consequently, effective data management can allow organizations to get a prototype into production ahead of a critical sales season or adjusting production in response to data-informed forecasts. An effective multicloud strategy is essential.
Mature Multicloud Execution
The first thing manufacturers need to address is their multicloud costs. They should use predictive third-party tools that measure the cost of cloud resources for every decision so IT leaders can predict costs. They need to use tools that provide visibility across the multicloud environment to give the company more control over their data. By automating security and protection, companies can reduce the burden on personnel and free up IT resources.
Manufacturers also need to evaluate deployment criteria such as performance, availability, data mobility, API, and user network bandwidth to ensure that an application will deliver the expected user experience. Once an application is deployed, the IT department needs to continuously monitor its characteristics to ensure that the requirements or capabilities don't change over time.
To drive innovation, manufacturers need to make sure their data is being put to full use across their organizations. Make sure all internal stakeholders have access to the data they need to be successful and empower them with self-service tools for efficiency. Providing frequent trainings on the company's data infrastructure will also make sure employees understand how to leverage data to its full potential. Enterprises should also regularly measure employees' satisfaction with how well their data needs are met to make sure they have the data they need to perform and innovate. Because so much of manufacturers' data is created at the network edge, they need tools that seamlessly move data where it needs to go so critical data from the edge can be aggregated in a centralized location. 
Bottom line: In a landscape where competitors use automation, robotics and AI to get ahead, manufacturers need every advantage that their data can provide.
The organizations that harness the power of multicloud—by reducing costs while also promoting innovation through efficient cloud operations—are the ones that will find the sweet spot and come out ahead.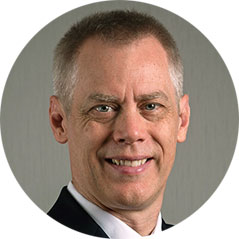 Jeff Nygaard
Leading a global organization, Jeff Nygaard manages over 38,000 people who speak nine languages and live on three continents. He first started working at Seagate as an engineer. During his tenure, he has been instrumental in building high-performance teams, integrating a competitor's business, developing strategic alliances, and restructuring Seagate. Nygaard reflects the senior management team's philosophy that a holistic, responsible business—one that treats people, the environment, and our community with respect—enables better results.
https://www.seagate.com/