Manufacturers are making strides by leveraging these groundbreaking technologies to optimize efficiency, productivity and safety.
Anyone working in the manufacturing industry knows how competitive the market is. As a result, companies are under pressure to deliver new products quicker, safer and in more affordable ways with minimal resource and material waste.
Quality and efficiency are at the heart of any successful manufacturing operation and the key to meeting these demands. Although, as of late, the ongoing skills gap, growing labor shortages, and supply chain constraints have threatened these standards. Luckily, new tools are helping manufacturers remain competitive amidst times of change.
A New Reality for Manufacturing
The ongoing shift towards digitalization in the manufacturing industry is helping overcome an increasing number of hurdles. Most notably, the latest technological advancement in the digital space: extended reality.
Extended reality is an all-encompassing term that refers to the combined real and virtual environments and human-machine interactions generated by computer technology. It includes representative forms like augmented reality (AR), mixed reality (MR), and virtual reality (VR).
Extended reality is making strides as a groundbreaking innovation across all sectors, but some of the most significant opportunities lie in manufacturing and industrial settings. It's already making its way into applications, from the factory floor to the training room, and helping manufacturers achieve greater efficiency, accuracy and productivity. Here are three ways extended reality is driving the industry forward.
Design and Development
The manufacturing sector is utilizing extended reality technologies to facilitate a more comprehensive and collaborative environment, enabling teams to share design, manufacturing line set-up, and optimization ideas and interact with machinery from anywhere in the world.
In fact, some manufacturers are combining simulation and virtual reality. It enables teams to take a simulated view of the factory, port it into VR goggles and receive an immersive experience of how the floor looks. And with sufficiently elaborate coding, augmented reality applications can allow digital visualization elements to be lifelike in scale.
As manufacturers explore new designs and functionality, intelligent tools like this can help calculate possible issues and defects in real time. For example, does the line layout work with the product design? Did we miss any steps in the building process? Catching potential issues up front can help save time and money.
Training and Collaboration
Traditionally, manufacturing facilities have been bound by geography, organizational structures and sheer workload. This structure creates siloes of knowledge and inhibits the transfer of valuable expertise.
Extended reality lets manufacturing leaders democratize expertise and spread "tribal knowledge" across regions, teams, departments and functions. The virtual and augmented technology moves beyond what can be shared on paper or a video, providing the ability to see, hear, and experience what it's like to work on the factory floor with machinery. By breaking the physical world's limitations, training programs can be accessed by the wider workforce with reduced travel. And the uniquely immersive experience works well to boost engagement.
In many cases, extended reality applications also help to keep workers out of risky situations. By receiving virtual, multimodal training before hitting the shop floor, workers have hands-on experience, are aware of how machines interact with one another and understand potential pitfalls to avoid.
Maintenance and Configuration
It is becoming more challenging to retain and recruit specialists with the background and skills for programming increasingly sophisticated manufacturing machinery that is equipped with advanced controls, sensors and networking functions. But with extended reality technologies reshaping how manufacturing employees acquire knowledge and interact with their physical surroundings, these specialists who are in high demand can use extended reality technologies to diagnose and troubleshoot anywhere in the world, resulting in faster execution and fewer errors.
The Future of AR and VR in Manufacturing
Like many industries over the last few years, the manufacturing sector has seen persistent change, making the need for operational efficiency gains more crucial than ever before. Challenges presented by a retiring workforce, skilled worker shortages and global bottlenecks have led to a need to rapidly accelerate digital capabilities.
Extended reality is proving to be a revolutionary innovation that supports challenges in manufacturing operations, but it's not as easy as it sounds on paper. Manufacturers must be aware of potential challenges – from virtual content creation and hardware limitations to end-user adoption and use case adoption.
This is a crucial time for AR and VR technology. It's been around for a while and has proven its worth over the last two years, but innovations must continue. The future of this technology will be much more immersive and spatial, tying together simulation, digital twins, supply chain and other shop floor technologies.
Leading companies will continue to experiment and work with extended reality technologies to unlock new methods to connect factories and workers and quickly, efficiently and safely make physical goods in a virtual world.
https://flex.com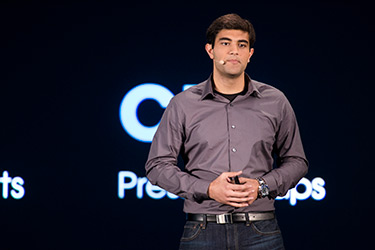 About the Author:
Zohair Mehkri is a Director of Engineering at Flex based in Silicon Valley, Calif. He is an award-winning versatile leader with a demonstrated history of excelling in the technology and manufacturing industry. Zohair has over 10 years of experience of being highly skilled and experienced in operations, management, wearable electronics, printing technologies, automation and controls, additive manufacturing, simulation and modeling, augmented / virtual reality, PCBA processes, technology strategies and manufacturing. He has led numerous teams across the world in both technical and operational disciplines and is a strong professional and serial entrepreneur who currently drives and executes worldwide corporate strategies for next generation technologies. Zohair holds a Bachelor of Science in Operations Management and Information Systems from Santa Clara University, CA, and a Master of Business Administration in Leading Innovative Organizations from Santa Clara University, CA.
The post How AR and VR are Driving the Next Era of Manufacturing appeared first on Industry Today.