With three quarters of Gen Z feeling anxious about their financial situation, employers can help their employees manage their finances.
By Jeremy Beament, Founder and Director at nudge Global
The global pandemic continues to sting, but one of the most damaging and long-lasting consequences has been the financial toll on employees. While wages may have increased for some, the U.S. Bureau of Labor Statistics shows that real average hourly earnings dropped 2.4% in 2021.
This decline has been especially difficult for Gen Z. Our latest research reveals that three quarters (75%) of Gen Z employees feel anxious about their current financial situation, and more than two-fifths (41%) are living paycheck-to-paycheck. More than one-third (35%) were forced to dip into their savings to make ends meet during the pandemic and hope to build up those funds once more.
Their financial challenges may continue for the foreseeable future. Almost all workers (88%) remain concerned about how inflation may impact their day-to-day life and purchasing power, and 52% say they are very concerned. Employers can't alter market conditions, but they do have an important role to play in helping employees manage finances – now and in the future. As the chief provider of employee benefits, organizations can offer tools and technology to improve employees' financial wellbeing.
Employers can't alter market conditions but they have an important role to play in helping employees manage finances, now and in the future.
Provide the assistance Gen Z needs
Money is a key a factor in many of the decisions people make regarding both their job and their personal life, but the stress that can follow should not be overlooked. Nearly two-thirds (62%) of all respondents say they are depressed about their financial situation, and 56% are ashamed. Employees who stress about their finances may struggle to concentrate at work, become less engaged, and search for a new employer. A Work Institute report reveals that businesses spend an average of $15,000 per employee departure, but the cost may be much higher, depending on the role.
In an effort to reduce turnover and the pain of the Great Resignation, most employers understand the need to invest in employee wellbeing solutions. Financial wellbeing should absolutely be a part of that investment. Our research shows that 55% of Gen Z respondents would feel more committed to an employer that includes financial education as part of their wellbeing package. Considering the financial difficulties over the past two years, it's not surprising that 32% would like assistance in growing a savings account and 20% would like to know more about reducing their debt.
Teach Gen Z the skills to overcome their money challenges
Organizations that help their staff achieve greater financial wellbeing may also improve employee satisfaction. In fact, our research shows that 20% of respondents are more likely to experience hope and contentment with their finances, while 24% are more likely to feel connected to their employer. This provides a significant opportunity for employers to better support their employees to build financial acumen. If properly invested in, companies will find that their employees are happier and more dedicated to their job.
The employee-employer connection is paramount, particularly for workers under age 35 who are 22% less likely to feel connected to their employer. This problem should not be ignored; a BetterUp study shows that workers with a strong sense of belonging are 50% less likely to quit and 56% more likely to outperform their disengaged colleagues. Amid record high rates of turnover, employee engagement is more tenuous than ever, falling for the first time in 10 years. By including financial wellness in their benefits packages, businesses can simplify personal finance and provide their staff with the skills and knowledge they need to overcome their money challenges.
Build a happier, more committed workforce
Our research shows that more than half (58%) of American workers believe they are viewed as interchangeable and easily replaceable – approximately 52% of Gen Z employees feel this way. More than two-fifths (41%) are focused solely on their paycheck and nothing more. This is not the sentiment of a highly engaged workforce, but it is a reminder of the risks that employers continue to face as people contemplate their career choices.
Organizations can change these negative views and increase employee commitment by delivering the financial benefits they need to succeed. This should include a personalized approach to financial education that engages workers with the right knowledge and teaches the necessary skills to improve their financial wellbeing.
Employees are eager for these benefits. Among those who do not already have access to financial education or financial management tools, 68% say they would use them if offered. By taking the initiative to deploy financial wellness benefits today, employers can begin to build a happier, more committed workforce tomorrow.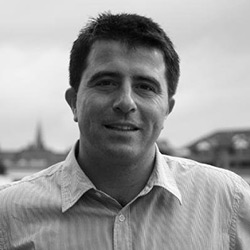 Jeremy Beament
With over 18 years' experience in HR and reward, Jeremy Beament, Co-founder of nudge, has been at the forefront of innovation in the industry. Prior to nudge, Jeremy was part of the team at Thomsons Online Benefits (now Darwin), the global benefits platform that brought employee benefits online. Throughout his career, Jeremy has worked with HR and reward leaders from the world's leading companies to share market-leading employee benefit strategies.