Shin-Estu Silicones and Partners demonstrate "Work-Horse" KEG-2001-60 LIMS via Wayfarer-style sunglasses production demonstrations.
Akron, OH
Shin-Etsu Silicones of America (SESA: A U.S. subsidiary of Shin-Etsu Chemical Co. Ltd., Japan) recently premiered advanced technical demonstrations in collaboration with industry leading machinery and equipment partners at the 2022 Silicone Expo (Huntington Place, Detroit, MI). The demos featured Shin-Etsu's fast-cure KEG-2001-60 LIMS (Liquid Injection Molding System) product's advanced handling and molding properties being run in the production of silicone Wayfarer style sunglasses.
Shin-Etsu's KEG2001-60 is a very fast-cure type LIMS silicone supplied as two, A/B translucent components which are mixed in a 1:1 ratio to ensure easy and accurate blending. The 60 durometer, Shore A hardness product features a viscosity low enough to allow easy pumping through most injection molding systems. Notably, the product features high tear strength, rapid cure time at elevated temperature, and long pot life at room temperature. Beyond the complex sunglass configuration at the demo, the USP class VI certified "workhorse" product is ideal for typical applications including: O-rings, diaphragms, gaskets, medical devices, baby care components, and consumer products.
All eyes were on Shin-Etsu's KEG-2001-60 as its fast-cure and complex versatility were on display in the daily sunglasses production demos at the 2022 Silicone Expo in conjunction with the following SESA partners: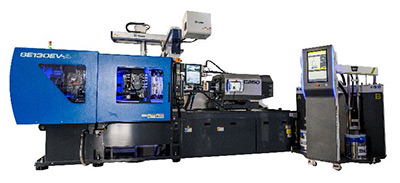 Sumitomo (SHI) Demag Plastics Machinery (Suwanee, GA), one of the leading manufacturers of plastic injection molding machines in the world, provided its SE130EV-A all-electric injection molding machine at the center for the collaborative Silicone Expo demo.
The machine, which advances zero-defect molding capabilities, is based on their Japanese plastic machines but has unique features for a LSR configuration that is now available in North America. Noting a push for thermoplastics molding machines to implement more LSR options, Sumitomo's SE130EV-A has capabilities spanning LSR applications in medical, automotive, connectors, amongst others.
One key feature used from their micro molding techniques in plastics was a positively locking SK screw tip assembly that shuts material off, so it doesn't backflow along the flights of the screw during the injection process. It effectively turns the end of the screw into a plunger after it's shot in the material, delivering a very controlled volume of material pushing in every time. This is essential since shot regularities are key for part weight consistency and part density, particularly for a light material like LSR which flows like water at times.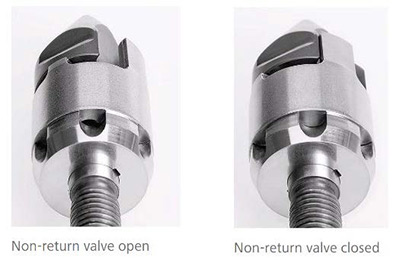 Notably, the SK tip assembly eliminates variation by providing the consistency benefits of a plunger, with additional mixing of the material to get a consistent temperature in a screw type assembly.
The SE130EV-A is one of the most energy efficient, repeatable systems on the market. The key is it's a direct drive injection unit that takes the servo motor drive shaft, and directly couples it with a ball screw to eliminate gear boxes, belts, and pullies getting in the middle−so there's no interchange between the two devices. The result is a fast system with process control that is repeatable and efficient.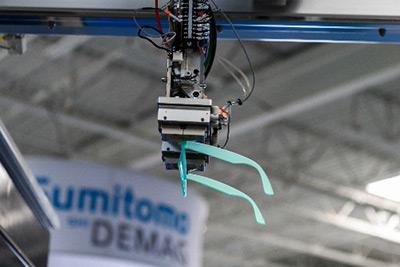 According to Tony Marchelletta, Sumitomo's National Sales Manager, "This is great for micro-molded LSR parts where a fraction of a millimeter means the difference between a good and bad part−particularly with optical grade parts that require precision to maintain their optical integrity."
Sumitomo's Regional Sales Manager, Dan Anderson, also noted that, "We have large German and Japanese facilities, and the SE130EV-A now provides the North American market another LSR option with a simpler, more intuitive architecture."

The dosing system for the demos was provided by Nexus Elastomer Systems, Inc. (Chicago, IL) and featured their SERVOMIX X200 machine. Designed for 200-and-20-liter containers, it delivers high productivity, economical, and extremely short cleaning times. With a maximum feeding rate of 1,000 cm3/min (depending on viscosity) pulsation free, the X200 pumps the silicone out of the two drums or pails, and is fed through two hoses to the compact modular mixing head which is mounted to the injection machine.
Designed for maximum freedom when changing barrels, it offers a fast and safe drum exchange from a 90-degree angle (on both sides) within five minutes. The X200 also uses SPLITNEX technology for automatic excretion of air from liquid silicone. This guarantees air-free liquid silicone mix dispensed throughout the process to the mold.
It uses a 2-component, 1:1 ratio, 50/50 mix, which adds a third-stream colorant. This is injected into injection machine, then into the mold. It is kept cool so it doesn't cure prematurely, then it's shot into a 350oF mold−where it crosslinks almost instantly.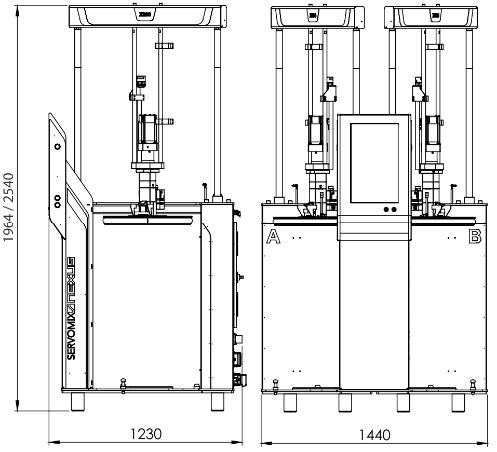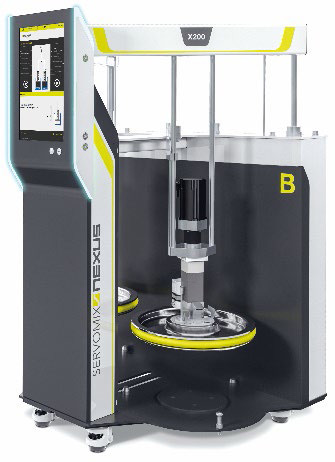 Notably, the servo-driven pump is a unique custom design that is very accurate for smaller injection molded parts. It goes to the bottom of the pail to maximize silicone use. It also uses a flow meter on the color valve−used for high accuracy with color injected on the part. In effect, it is the most precise flow meter in the industry, measuring down to the nanoliter in accuracy.
According to Mike Flander, Nexus's new North American Technical Manager, "It was good to show the customers the immediate cycle data feedback you get per dose at the demo as it was happening live. It shows the menus and how easy of a system it is to use."
Mike Pelletier, Nexus's North America Sales Manager, noted they have been using SESA's material since 2014 stating, "It's a good partnership, and the demo of the sunglasses shows the material's uniqueness with different textures that can be achieved inside the mold. The system ran fully automatic and the shot size was accurate with no flash being pulled off of it. This dosing system makes sure that there is accurate shot volume at the press."
Pelletier also mentioned Nexus's new warehouse facility in St. Michael, MN that houses spare parts and systems that just opened on July 1st stating, "With our equipment manufactured in Austria, we can now significantly bypass delivery issues."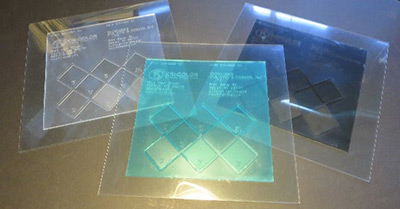 KRI-Color (Sanford, ME) is a manufacturer of high-quality dispersions for silicones (colorants, chemical additives, organic peroxides, etc.) serving LSR, HCR, and RTV type silicones−essentially, anywhere silicone elastomers are used. Annually, they match and sell thousands of standard and custom colors.
Their product line for colorants used at the demos is specifically designed for use in LSR and is called KRI-Paste

. The colorants are easily incorporated into existing formulations, highly concentrated, provide excellent dispersions, and offer tight color tolerances supported by Delta E (CMC).
Their challenge was to customize translucent tint color on the sunglasses in black and green, while adjusting the tint levels so lightness/darkness intensity was achieved. Additionally, eight different tool finishes were used in the complex production. The lenses portion of the sunglasses are more translucent than the frame requiring a higher gloss and mirror finish. The temple pieces required a frost and texture on them.
According to KRI-Color Co-Owner, Tom Manello, "With tint/translucent you must have no particulates in the dispersion as every particle must be broken down to its primary specific particle size. Essentially, it must be perfect−if you miss anything it's going to show up. In effect, controlling the color on tint is key versus a solid color, requiring more adjustments. We achieved both with SESA's KEG-2001-60, which is a non-optically clear material but still looks optically clear."

Industry leading experts in the design and build of inserted flashless molds rubber, LSR, and HCR applications, Roembke Mfg. & Design (Ossian, IN) provided the demo mold for the sunglasses. The mold was a standard inserted LSR production mold with a 1- drop cold system on it, on a single drop, one-gate location. Roembke is known as a premiere mold maker that knows how to polish, in this case two surface textures for the sunglasses−polished to get the mirror surface on the lenses, and rough on frames.
Notably, the ear piece handles extended from the frame's surface, so a special mold was made with a complex tool. Not being a flat 2-plate mold, it had to be five-axis machined out which allowed for achieving tricky contours easily. Additionally, there were two surface finishes that had to be addressed. First, the earpieces and frames material were bead-blasted with a semi-opaque finish.
Second, the lens portion of the mold had a high A2 polish on it so it comes out smooth and clear.
Adam Shaal, Roembke's Business Development Manager noted, "Silicones are pretty unique because you can change the texture of the tool and effect the feel and look of the molded part without changing materials. Many would think that it's two materials, but it's a single shot! SESA's silicone perfectly replicates anything in the mold and it's all about the mold being perfect−if the mold is perfect then the part will be perfect."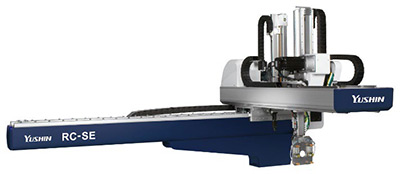 Yushin America, Inc. (Cranston, RI), one of the world's largest suppliers of robots for the injection molding industry, provided one their newest robots−the RC-SE robot which excels in LSR part removal. Key to this expertise is the optimized design of the main arm and kick frame−ensuring fast, and accurate in-mold operations. This design makes it possible to
work with such difficult part extractions such as the demo sunglasses, maintaining stability while pulling the part from the mold.
The removal of the LSR part from the mold is typically done by pulling the part from the mold face without the assistance of ejector pins pushing the part off. Design considerations must ensure that the part is retained entirely in one mold half, and usually, some small feature of the part is accessible above the parting line surface to allow for robotic removal. A high degree of accuracy is required in order for the robot to access this small hard-to-access location .
Many parts with simple undercuts can be easily removed from the mold by the robot. The RC-SE has standard undercut motions that allow up to 3 additional teaching points to be programmed, using the teach pendant to assist in removing parts from the mold without additional mechanical assistance built into the end-of-arm tooling. Servo wrist units with up to 3 axes can be added for even more articulated movements for parts that require a higher degree of manipulation or a peeling motion for removal from the mold surface.
According to Yushin's National Sales Manager, Chris Parrillo, "Handling complicated take-out and secondary operations is easily accomplished with simple controller teaching of the servo wrist−with no complex programming required. The freedom to change product orientation eliminates the need for multiple pieces of equipment. It also requires no adjustment mechanisms for subsequent processes like vision and dimensional inspection, gate removal or adding part features post-molding like insertion, assembly, or other secondary operations that are sometimes used to facilitate the production process."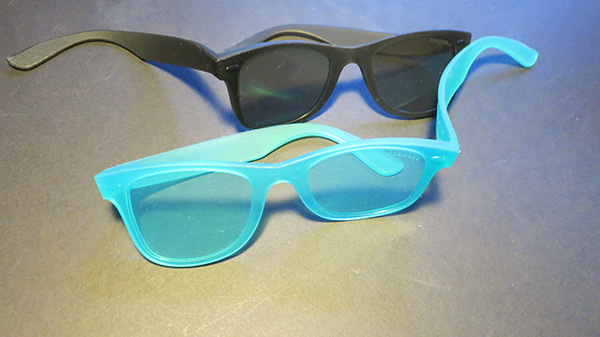 CONCLUSION / SILICONE COLLABORATION:
According to North American Marketing Manager, Eric Bishop, "Shin- Etsu's collaboration with our industry leading machinery, equipment, and material partners at the 2022 Silicone Expo demos allowed us to explore what the possibilities are for our fast-cure KEG-2001-60 LIMS product. The advanced handling and molding properties that were run in the production of the silicone Wayfarer style sunglasses stretched the boundaries of the complex configuration. The synergistic effort allowed us to take full advantage of the latest developments in molding equipment and tooling technology."
For a LIMS / Wayfarer Sunglasses / Video Demonstration, visit: https://drive.google.com/file/d/15qmywyxB4jSJdECKAbJz8PGoHwbjEFpx/view?usp=sharing
For more detailed information, visit the Shin-Etsu Silicones web site at: www.shinetsusilicones.com

CORPORATE PROFILE: A U.S. subsidiary of Shin-Etsu Chemical Co. Ltd., Japan, Shin-Etsu Silicones of America Inc. offers vast technical and capital resources to formulate solutions as a major supplier of silicone materials to North America's medical, automotive, electronics, aerospace, cosmetics, and manufacturing industries. Shin-Etsu's premium silicone compounds incorporate leading-edge technology, staff expertise, and value-added service; offering customers the highest levels of quality and consistency in specialty silicone materials.
©2022 Shin-Etsu Silicones of America, Inc. All rights reserved.
The post Fast-Cure Silicone Complexities in Sight appeared first on Industry Today.