Digital Twins have the potential to unlock opportunities by improving efficiency, reducing risk, and increasing sustainability.
By Hamid Alemohammad, Co-Founder and Chief Operating Officer and,
Omar Abbasi, Marketing Communications Manager
The construction industry is a highly linear, labor-intensive process. The last 20 years has demonstrated that it has fallen behind in digitization, especially in the use of data and analytics (i.e., artificial intelligence [AI] and Building Information Modeling [BIM]). The industry could benefit from using digital tools for data collection, management, analysis, and prediction during the design and construction phase to increase efficiency, meet compliance requirements, and enhance productivity. One way to accomplish this is with the implementation of a digital twin, a virtual representation of a physical asset or process. Digital twins ensure risk mitigation, project optimization, and improve site safety and efficiency – modernizing the construction industry.
What is a digital twin?
A digital twin is a virtual representation of a physical asset or process. The digital twin helps asset owners, engineers, plant managers, etc. to understand the real-time performance of the asset or process and make predictions on the future performance trends of those assets and processes. The digital twin technology was first used in 2002 in the field of aerospace and aeronautics. 
A digital twin in AEC is a digital replica of the built asset (i.e., building, bridge, etc.), that combines design, construction, and real-time operational data. A fully-fledged digital twin can simulate and predict trends that help asset owners with critical decision-making.
Looking at the digital twin life cycle (as defined by Autodesk), as the construction phases proceed, different types of data are captured continuously (including data from sensors and monitoring devices). The captured data can be combined with BIM data to build a digital replica of the construction site ("digital twin") that is updated in real-time with new data. Over the course of construction, project managers can use the digital twin platform to gain a multi-dimensional view of the performance of the construction site. The platform can also be used to predict trends, detect risks, and optimize project schedules.
The application of a digital twin does not end with the construction phase. At handover, the captured data alongside other asset data are consolidated in the digital twin platform as an up-to-date digital hub and a single source of truth. During post-construction, the digital twin platform can still capture real-time operational data to perform simulations and trend predictions over the lifetime of the built asset.
Digital tools can be used for data collection, management, analysis, and prediction during the design and construction phase.
Digital twins in the AEC industry
The applications of digital twins are rapidly expanding in the AEC industry. Here are just a few examples:
1. Risk mitigation
By investing in real-time digital twins, it is possible to track changes both daily and hourly. Early detection of discrepancies can keep the project team updated on the abnormal situations and progress of tasks. For example, data from a network of sensors installed at a construction site can be integrated into digital twin platforms. A project manager can then predict different risks during construction (i.e., water and environmental damage, fire, etc.) by merging and analyzing real-time sensor telemetry and BIM (Building Information Modeling) data during different stages of construction.
 2. Automated Progress Monitoring and Schedule Optimization
With automated progress monitoring, project stakeholders can verify that the completed work is consistent with design and specifications. Before new technological advancements, a physical site observation was required to verify reported work done and determine the project stage project. Now, a digital twin platform that has been augmented with significant data during the construction phase (through sensors, cameras, etc.) can verify the progress of the project in real time, reducing last-minute disputes over discrepancies and errors. Examples of such data collected from sensors and fed into digital twins are the progress of concrete curing, equipment utilization, energy consumption, environmental conditions, and material and tools tracking. According to the CII (Construction Industry Institute), close to 25% of productive time is wasted on unnecessary movement and handling of materials. In addition, digital twins can provide insight on optimizing project schedules by predicting the completion of critical tasks (i.e., concrete pours) and providing predictive resource management.
3. Improving Worker and Site Safety
The construction industry is known to pose several risks for workers in the sector, which is why workforce safety is paramount. With digital twins, companies can track employee locations to prevent unsafe activities, usage of unsafe materials, or activity in hazardous zones. Constructors now can develop a system of early notification, informing a manager when a field worker is in dangerous proximity to a hazard.
4. Enhancing sustainability and efficiency
Real-time operational and occupational data can be collected and analyzed to generate insight about equipment utilization, material tracking and monitoring, energy consumption, and equipment and tools tracking to improve efficiency and sustainability.
5. Improving green construction
Digital twins can be used to predict the CO2 footprint of different aspects of construction projects and provide insight on an ongoing basis about potential process improvements to reduce emissions.
Conclusion
Today's construction sites require innovative processes and tools to raise efficiency and productivity. Using digital twins means always having access to as-built and as-designed models that are continuously synchronized in real-time. The far-reaching benefits of this information-rich technique can only be fully unleashed by collecting and analyzing real-time sensor telemetry and BIM data during different stages of construction. Digital twins unlock a level of automation to explore countless process optimization, operational efficiency improvement, and risk mitigation ideas using technology that is already available. It allows up-to-date, real-time information to be fed back to the field to reduce waste and reworks, while enhancing safety and sustainability. Digital twins can be augmented with artificial intelligence and machine learning to reveal sophisticated predictions during and after construction, enabling insight for stakeholders to make more informed decisions.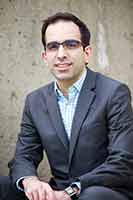 Hamid Alemohammad
Hamid Alemohammad  has over 16 years of experience in industrial sensing systems and instrumentation, including Internet of Things (IoT) technology. He is an advocate for commercializing transformative and breakthrough technologies to address global challenges in sustainability. He holds a PhD in mechanical and mechatronics engineering from the University of Waterloo.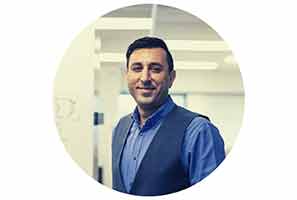 Omar Abbasi
Omar Abbasi is the Marketing Communications Manager at Brickeye and is responsible for overseeing the company's global integrated communications, marketing, and brand management strategy. Omar has 15 years of global business experience, including more than 5 years in the start-up space. Prior to Brickeye, Omar was the Marketing & Communications Specialist at Tornado Spectral Systems where he was responsible for external communications and positioning of Tornado's process Raman spectrometers and systems. His passion lies in working with cross-functional teams to create marketing collateral, along with sales and marketing materials.
He earned a Bachelor of Commerce from the John Molson School of Business (Montreal) and a Master of Science degree in International Marketing & Brand Management from Lünd University (Sweden).