Research shows how smart, connected packaging contributes to the digital thread, helping companies better engineer and manufacture products.
By Sef Tuma, Raghav Narsalay and Anita Etrati, Accenture Industry X
Data is the heartbeat of every thriving modern product company. The most advanced companies are persistently using data to reinvent their products. They also use data to reinvent operations by weaving digital threads, which allow information to flow between products, processes, and plants. 
Increasingly, product businesses are starting to leverage smart, connected packaging as a new data source. These are digital-enabled containers and labels, which enrich the product experience for customers and pull data back to inform a company's product development and manufacturing. 
A major multinational food company uses smart connected packaging to provide richer product information to consumers on attributes of interest like ingredients and allergy advice.  When customers scan the product with their smart device, the company can see if consumers are concerned about or interested in certain ingredients and explain why they formulate a product a certain way. The company also feeds this data back to the product development and manufacturing functions to reformulate products according to the latest consumer tastes.
Smart connected packaging can make passive products experiential, interactive and sustainable.
Copyright © Accenture 2022
More and more compelling use cases for smart, connected packaging emerge, for example: 
making product information easily accessible for impaired people; proving product authenticity;capturing consumer preferences for product reformulation and new development; identifying consumption patterns, counterfeiting hotspots, and recycling behavior for sustainability audits.
These use cases rely on an ecosystem of complementary technologies including: physical sensors, flexible electronics, cameras, quick response (QR) codes, near filed communication (NFC) tags, radio frequency identification (RFID) tags, master data management, big data, AI and cloud computing.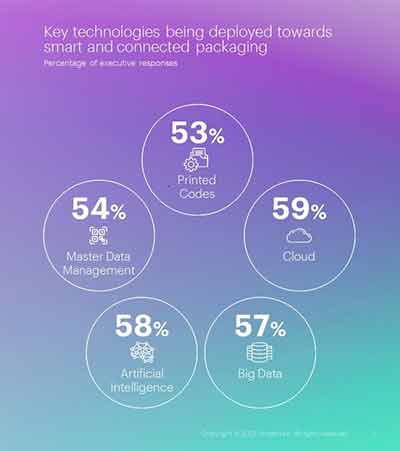 Key technologies being deployed towards smart and connected packaging.
Copyright © Accenture 2022
New research from Accenture Industry X and AIPIA shows that executives of product companies see smart, connected packaging as the harbinger of massive data potential. Almost all (96%) said they had begun exploring smart connected packaging. 
However, only 16% of companies already have a comprehensive, data-driven approach to smart, connected packaging that pays off. These leaders use the packaging data streams to outperform peers financially and as a medium to communicate directly with customers. More importantly, they take the consumer data they collate to build more relevant products, become more operationally resilient, and improve environmental and social footprints. Over three years, they have increased revenues by 3.6% on average, equaling an additional $300 million. For example, Treasury Wine Estates' sales grew dramatically when they launched an augmented reality-enabled "living label" for its 19 Crimes brand – which "disrupted the world of wine."
Leaders in smart, connected packaging execute three vital steps: 
Leaders build data-driven feedback loops across the product lifecycle. They think about the data agenda early in the design of packaging and focus equally on sharing information with customers and retrieving data from them. For example, data scientists, business analysts and research engineers at electro-mechanical product companies like Peloton and iRobot analyze automated customer experience and product performance data from smart products. One packaging executive described next-generation packaging as "internet of packaging," with each package becoming an edge device that contributes data from the boundary of a product-network.  Leaders excel at capturing, analyzing and governing smart packaging data. They recognize that data orchestration and not simply data coordination is vital to gathering it. Hence, they invest in building the right governance mechanisms. The clear majority (83%) have a fully deployed governance structure for packaging data used for analytics and decision-making, compared to 29% of all companies. By doing so they avoid the significant risk of packaging becoming another fountain of "dark data."Leaders dissolve data silos. Many business functions are involved in packaging related decisions which can lead to confusion and miscoordination. Many executives admit that they don't know where packaging 'lives' in the organization. They agree that smart, connected packaging requires more internal coordination and cross-functional collaboration. Leaders have identified and addressed this critical issue, with only 14% reporting that their business functions compete against each other instead of collaborating. Virtually all (98%) share packaging data between business functions.
Packaging is no longer simply in the realm of material goods – it's now a powerful platform for advancement and value across industries. Organizational models are emerging and are yet to solidify, with some leaders injecting data-talent within key functions, such as R&D, manufacturing and marketing, while others have highly centralized data operations within the CIO office that distribute relevant packaging-data to each of the functions.
However, manufacturing and engineering leaders need to see packaging as an extension of the product and part of the broader digital thread, which shares critical product acceptance, use, and sustainability data. They must prepare their functions to "thread" incoming data and put it to use. The more they excel at this, the better their businesses will do.

Sef Tuma
Sef Tuma is a senior managing director and the global lead for Engineering and Manufacturing at Accenture Industry X.

Raghav Narsalay
Raghav Narsalay is a managing director with Accenture Research and a research lead for Accenture Industry X.

Anita Etrati
Anita Etrati is a senior manager and the Intelligent Products and Services lead for Switzerland at Accenture Industry X.