Demand sensing unlocks greater visibility throughout the supply chain which is essential for resiliency.
During the pandemic, CPG companies were under pressure to balance supply with demand since the demand for products increased manifold." (From)
By Sateesh Seetharamiah, CEO – Edge Products, EdgeVerve Systems Ltd. (An Infosys Company)
Remember a time when you had just a few brands offering mobile phones. Or when shoes were available in just a few models. If you wanted to buy something, chances were that you had to go to a store and make a purchase. To Gen Z, this is an unthinkable situation, positively medieval; but we are talking just a couple of decades at the most. There has been an explosion in the number of product choices available to customers. Brands like Nike are moving beyond the concept of inventory and offering personalization on demand. And now, what consumers want gets delivered to them in the comfort of their homes. In an era of instant gratification, even next-day deliveries are becoming unacceptable.
This massive shift in consumer behavior – accelerated by the COVID-19 pandemic pushing everything online – has fragmented demand, rendering traditional demand planning techniques ineffective. As a result, CPG brands, Retailers, Manufacturers, and Logistics providers are struggling to realign their supply chains to this new world order. The critical questions for industry leaders are:
How can we achieve supply chain agility and prevent loss of sales?What can we do to integrate data, plug gaps in our supply chains, and create a robust network?How do we ensure effective supply chain planning and execution?
To answer these questions, they first need to understand demand and plan for fulfilling it in near real-time.
Getting a handle on demand
Building supply resilience and agility requires granular visibility into network-wide sales and inventory. You need to know what is selling, where, and at what speed to make accurate supply decisions. However, traditional demand planning methods are failing spectacularly in the face of fragmented demand. For instance, one of our clients, a multi-billion-dollar sports merchandising corporation, found that their demand visibility was too low. According to research, businesses take more than a month to detect changes in consumer demand – by that time, the business has lost sales.
The problem with current forecasting methods is that they rely on historical shipment data not enough to react to short-term changes in demand. The industry needs a way to meet immediate market demand quickly and cost-effectively.
Demand Sensing: Plugging supply chain gaps with timely insights
Panic buying during the pandemic led to people hoarding daily necessities, emptying store shelves, and leading to shortages across the globe. Near real-time demand, sensing could have helped companies manage this crisis better. In fact, it did. We helped a leading brand manage unpredictability during the COVID-19 spread by correlating caseload data against retail sales to limit out-of-stock to just two days.
The benefit of demand sensing goes beyond crises (see infographic). Leveraging advanced technologies to capture and process data from as yet untapped sources, demand sensing extends supply chain visibility. Real-time visibility of changing demand patterns reduces uncertainty and helps companies close supply gaps and respond to ground realities faster. For example, if a social media post about a product goes viral, it's likely to sell out more quickly than expected. On the other hand, introducing a new competitor product might stall sales.
However, minimizing lost sales opportunities requires going beyond demand signals to knowing where the inventory is within the supply chain.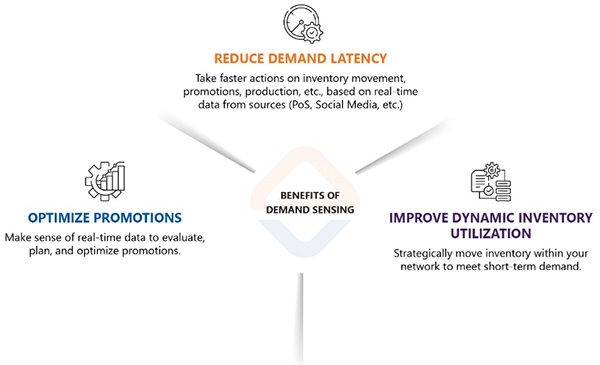 Overcoming the data challenge to build resilient supply chains
Demand sensing implies large volumes of data riddled with several data-related challenges. Business needs to collect data (whose quality remains questionable) from a vast network of partners in varying formats and on different systems based on the technological maturity of the partner.
Our client, a multi-billion-dollar sport merchandising corporation, saw its demand visibility increase by 60% across 32,000+ stores and 30+ countries. Their inventory turns rose by about 30%. This resulted in reliable, accurate, and timely data that helped them double the impact of innovation, increased their speed to market, and helped connect with their consumers better.
The immediate vision of supply chain solution makers should be to democratize the use of data. All supply chain stakeholders in the organization should be able to work off a single version of the truth. And this can only be achieved by creating a central harmonized data store from various systems used by stakeholders. We should further enhance it by leveraging artificial intelligence (AI) technologies to deliver significant business uplift.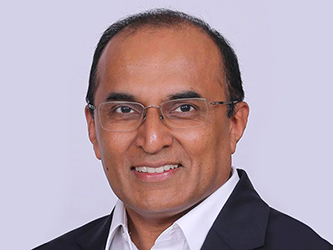 Sateesh Seetharamiah
About the Author:
Sateesh Seetharamiah is the CEO of Edge products, EdgeVerve Systems Limited (An Infosys Company), and a board member and Whole-time Director at EdgeVerve. Sateesh is an industry veteran with close to three decades of rich experience in entrepreneurship, management consulting, IT leadership, and supply chain. Sateesh is a firm believer in AI and Automation's immense potential in transforming future enterprises. Being a passionate technologist, Sateesh has been instrumental in establishing many foundational technology capabilities that drive today's EdgeVerve strategy.
About EdgeVerve:
EdgeVerve Systems Limited, a wholly owned subsidiary of Infosys, is a global leader in AI and Automation, assisting clients thrive in their digital transformation journey. Our mission is to create a world where our technology augments human intelligence and creates possibilities for enterprises to thrive. Our comprehensive product portfolio across AI (XtractEdge), Automation (AssistEdge) and Supply Chain (TradeEdge) helps businesses develop deeper connections with stakeholders, power continuous innovation and accelerate growth in the digital world. Today EdgeVerve's products are used by global corporations across financial services, insurance, retail, consumer & packaged goods, life sciences, manufacturing telecom, and utilities. Visit us to know how enterprises across the world are thriving with the help of our technology.
Contact:
EdgeVerve Systems Limited
EdgeVerve Twitter
The post Creating an Agile Supply Chain with Demand Sensing appeared first on Industry Today.