Shippers, carriers, and 3PLs can overcome supply chain chaos with networks that unveil hidden capacity, efficiency and flexibility.
Data in the value chain is what connects us and keeps your business healthy.
Until recently, few shippers seriously considered collaborating with each other. Although many shared lanes, factories, distribution centers and retailers, the technology and motivation to collaborate were lacking. Just identifying suitable collaborators would have required months of data gathering and number crunching.
The missing technology arrived in the form of real-time transportation visibility platforms (RTTVPs), a category I coined in 2016 while at Gartner and continue to focus on here at project44. Visibility data could reveal which shippers had overlap in a matter of minutes instead of months. The missing motivation came in the form of supply chain disruptions. Trade wars, COVID-19 lockdowns, clogged ports, inflation, armed conflict and increasingly frequent natural disasters became our "new normal."  
Now that RTTVP usage has become more widespread and supply chains are ever more complex, I believe the moment for collaboration has arrived. Arguably, collaboration is the key to improving supply chains. To make this case, I'll discuss what supply chain collaboration really means, how it works and the roadmap for scaling it.
The value of sharing
In supply chains, collaboration is about coordinating with internal and external partners to optimize the flow of goods and information and thereby meet demand and ensure on-time, in-full delivery. This collaboration depends on shippers' willingness to share data.
Traditionally, supply chain information is siloed in individual enterprises and their systems: ERP, TMS, telematics, vehicle routing, and so forth. Analysts often compare enterprise data to oil or gold—resources one would guard rather than share. That mindset devalues the data. As my former colleagues at Gartner have argued, the more that companies share data, the more valuable it becomes. 
The airline industry learned that lesson when Airbus debuted its Skywise platform in 2017. By aggregating data on airplane performance, Skywise could predict maintenance needs before they caused delays or grounded airplanes. Competitor airlines, recognizing the immense value of this service, set aside their differences to join Skywise.     
Shippers are inching in that same direction. They already share real-time visibility data with carriers to discuss and elevate performance. Shippers and suppliers also exchange data to simplify inventory management and reduce the likelihood of friction and fines. The seeds for broader collaboration are planted, but what can they grow into?
A concrete use case
To illustrate what collaboration can do, let's consider a favorite post-COVID bogeyman: the trucking capacity crisis. It's often imaginary, in my opinion. There is enough capacity—we just don't use it efficiently. If shippers pool and connect data, they can tap into that capacity. When companies optimize only their own transportation network, inherently they sub-optimize the industry.
When a shipper books a truckload from point A to B, the cost factors in "deadhead miles" driven back from B to A without goods. Convoy (a project44 partner) estimates that trucks are empty 35% of the time.  
Say that shippers, carriers and 3PLs pool their data through a real-time visibility platform that maps their plants, distribution centers and retailers. It sees which shippers share routes and when.
Now, a shipper or 3PL can preemptively book a truckload from B to A that would otherwise be empty. Or, the carrier can consolidate loads from shippers all going from A to B. Across their fleets, carriers reduce detention time and dead miles, increasing their per-mile rate. Thus, members of the collaboration network become shippers of choice when capacity is tight.
As miles are resurrected from the dead, per-mile costs fall for shippers. Newfound capacity also provides more options for managing exceptions and making on-time delivery. At a societal scale, collaboration may optimize truck usage, reducing greenhouse gas emissions and the costs of maintaining roads. 
The collaboration roadmap
This type of supply chain collaboration is already happening, but it takes time to develop. The process begins with connecting shippers, carriers and 3PLs into a data collection network. This data foundation grows more mature and reliable as it's checked against multiple sources and cleaned. Eventually, predictive insights—like ETAs and inventory forecasting—can be tested for accuracy.
Collaboration begins in earnest once artificial intelligence and machine learning (AI/ML) make recommendations based on the data. The intelligence notices a carrier taking goods from A to B and surfaces a load for the return trip. It also notices three shippers moving goods from distribution center A to retailer B and prompts the carrier to consolidate loads.
If AI/ML proves effective and trustworthy, then comes automation. AI/ML takes initiative, allocating unused capacity with human oversight. Shippers' data, once siloed and underused, becomes extraordinarily valuable.
A strategy for chaotic times
The supply chain never was nor ever will be a me-first system. It is collaborative in nature and rewards network strategies with untapped capacity, efficiency and flexibility.
Shippers can hope for a calmer supply chain, but if the past two years are any indication, they'll be waiting a while. Collaboration is the key to optimizing what we have in conditions beyond our control.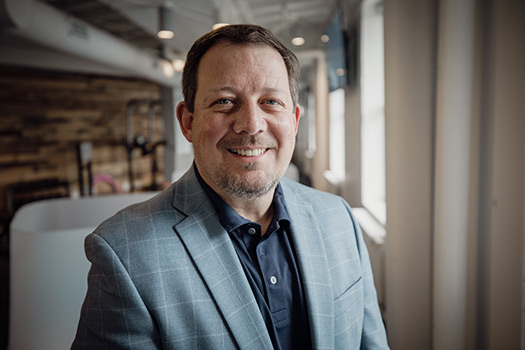 Bart DeMuynck
About Bart De Muynck
Bart De Muynck is Chief Industry Officer at project44 where he drives supply chain industry thought leadership and supports customers with their strategies. A logistics industry thought leader with 30 years of experience, Bart previously served as VP of Research at Gartner. He has contributed to publications including WSJ, Inbound Logistics, Logistics Management, DC Velocity, Transport Topics, and Bloomberg. Earlier in his career, Bart held logistics roles with PepsiCo, Elemica, Penske Logistics, GE Capital, and EY. He enjoys spending time with family and his two dogs, Nico and Whiskey, traveling, listening to music, cooking, and wine tasting. Bart will be speaking more on this topic at a webinar on November 4. You can register at the link here.
About project44
project44 is on a mission to make supply chains work. As the supply chain connective tissue, project44 operates the world's most trusted end-to-end visibility platform that tracks more than 1 billion shipments annually for over 1,300 of the leading brands, including top companies in manufacturing, automotive, retail, life sciences, food & beverage, and oil, chemical & gas. Using project44, shippers and carriers across the globe drive greater predictability, resiliency and sustainability.
The undisputed leader in the market, project44 was named the Leader in the 2022 Gartner Magic Quadrant, #1 in FreightWaves FreightTech 2022, the Customer's Choice in Gartner Peer Insights Voice of the Customer report. project44 is headquartered in Chicago with a diverse team spanning 23 global offices. To learn more, visit www.project44.com. 
The post Collaboration is the Key to Improved Supply Chains appeared first on Industry Today.