Click here to read the complete illustrated article or continue below to read the text article.
There is no overnight success story here as this story starts with hard work, a positive attitude, and calcu­lated risk-taking which Southland Trailer Corp knows very well. Monty and Shelly Sailer started their journey back some 43 years ago and are now handing the business over to their 3 sons, Jason, Ryan, and Scott Sailer. Shelly Sailer is the backbone of the com­pany and the secret to our success.
"We felt that the traditional business model for trailer manufacturing was archaic," explains Scott Sailer, Operations Coach. "We were looking to model ourselves after the automo­tive industry's lean manufacturing principles for continuous improvement, and particularly Toyota's corporate philosophy that places an emphasis on employees and creation of a home­like atmosphere at work, combined with lean manufacturing principles."
SL714-14K
Today, Southland Trailers is the largest steel product manufacturer in Alberta, Canada, with a customer base that stretches across Canada and the United States extending as far south as Texas and towards both east and west coasts. "We changed the way trailer manufacturing was done," Sailer says. "Kudos to our parents for trusting us."
Southland Trailers offers a complete line of products marketed under three brand names recognized for their high-quality applications:
Southland Trailers: dump trailer, flat deck, gooseneck;
Royal Cargo: cargo trailer, car hauler, toy hauler;
Renn: flatbed, gravel, gravel boxes.
Based on 37 acres and a 300,000 square foot manufacturing facility in Alberta, Southland Trailers employs over 385 team members. One leading indication of its continued success is recently announced plans to build an additional 85,000 square-foot advanced manufacturing plant, planned to be operational this summer, that integrates robotic systems to enable the company to double its daily production capacity.
According to a recent press release, the proj­ect is expected to create 250 jobs over the next three years, contrary to the myth that robots and automation eliminate jobs. "It's true that robots eliminate jobs that are repetitive and often dirty," Sailer notes. "But robots actually also create jobs. There are opportunities for anyone who is willing to retrain and learn new skills. It's not only a better job, but a more rewarding career path."
He adds, "We like to say Southland Trailers doesn't build trailers, we build people." A wide range of benefits and perks provide a firm foun­dation for building people, including incentive bonuses, leadership and personal development training, health insurance and a retirement contribution matching program. In addition, employees enjoy monthly social club events, an in-house cafeteria, a PPE (Personal Protection Equipment) allowance, condensed work week and a lucrative employee referral program valued at $1500.
Community Connection
The oil and gas industry is a major employer in Alberta, and because of that, the labor mar­ket is highly competitive. One way Southland Trailers aims to attract people is by promot­ing a work environment that fosters a sense of community and work-life balance. "We partner with numerous schools, particularly targeting those at a young age in grades 9 and 10, to offer programs that demonstrate manufacturing isn't the dirty and boring work people think, but an interesting and challenging career," Sailer says.
Southland Trailers "walks the talk" in its com­mitment to community and education. A recent example is how the company refurbished, delivered and installed a new air compressor for Catholic Central High School West—a donation of $12,000—to bring its pre-engineer­ing/welding shop up to industry standard.
Southland Trailers team members can take advantage of free apprenticeships programs to expand their skillsets into different trades. In addition, Southland Trailers recognizes that people with the experience and skills are the ones best able to make their own decisions about their work processes. "Someone who is doing a job day in and day out knows more about what can improve that job than I ever will," Sailer notes. "We listen to our employees about what needs to be done to make them more efficient and productive. Every team member feels heard and valued, our company motto is that we empower people to do it better."
Vertical Integration
Equally important to listening to employees is listening to customers. This is why Southland Trailers is a recognized brand as opposed to just another trailer company. "Southland Trailers is an incubator of innovative ideas to adapt to changing market and consumer demands," Sailer says.
Southland Trailers markets through deal­ers. Although dealers may stock some inven­tory, most sales are built-to-order. Because Southland Trailers is vertically integrated, fab­ricating, painting, and finishing its entire parts and product line in-house, with no or little outsourcing. This allows a speedier production turnaround and at the same time minimize cost. Sailer also notes "We employ lean manufac­turing principles and continuous improvement processes. Because we eliminate the middle-man with in-house fabrication, there's better communication and closer collaboration with our entire team. All of which result in higher product quality and efficiency."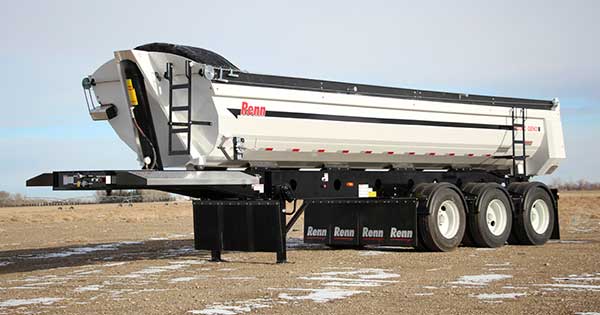 14 RENN 33ft End Dump.
Strength-to-Weight Ratio
Another key reason for Southland Trailers leadership position is the strength-to-weight ratio of its trailers. "50% of a truck delivery is riding empty on the return trip," Sailer says. "You want a trailer that is strong enough to carry the weight, but light enough so that you aren't burning fuel needlessly when it is empty."
Additional product features include:
Engineered frames that reduce cross members and aluminum toolboxes to reduces trailer weight and increase payloads;
Robotic welds that ensure consistency and quality;
Full enclosed wiring and Polyurethane Two Component Pain Process to reduce customer pain points.
"We take pride in the foundation instilled in our company values of achieving continuous improvement and innovation, providing empowered employees with meaningful and rewarding careers, and listening to the voice of the customer," Sailer says. "We've grown from a small show to a vertically integrated manufacturing operation that provides added value with the ability to think outside the box in designing and improving our products. It's how we've grown over the years and why we anticipate sustained growth in the future."
The post Building People appeared first on Industry Today.