Well-established OEMs and EV upstarts are looking to out-do Tesla and become market leaders. Are they being unrealistic about their goals?
Within the automotive space, it's hard to remember a time more fueled by ambitious plans for the future than the era we're currently living in.
The stunning financial success of Tesla has cracked the EV landscape wide open, and every automotive manufacturer is looking to dive in head first and grab as much of the market as they can.
These OEMs are on the equivalent of a sugar high, and it shows in their rollout plans. According to Bank of America Securities, the major automotive OEMs in the US plan to introduce an average of 60 new models per year over the next 3 years (a 50 per cent increase over the 20-year trailing average of 40 new models per year). At the same time, a study from ABI Research sees a 66% increase in individual new component programs worldwide over the next five years.

A study from ABI Research sees a 66% increase in individual new component programs worldwide over the next five years.
Clearly, everyone involved is in a bullish mood and not planning on failure. Well-established OEMs like Ford and GM as well as new upstarts like Lucid and Rivian all think that they can repeat Tesla's success and become market leaders. The question is: Are they being dangerously unrealistic about their goals?
Looking Through the Wrong Lens
First things first: Unless everyone gets a participation prize, there's no way that everyone gets to win. There's only room for so many winners.
More important, there is the simple reality that the automotive OEMs are all using a common supply chain that cannot absorb this rate of new model introduction.
Roughly speaking, an automotive supplier is divided into a production side of the house and an engineering/development side of the house. The production side may well be able to keep up with this flood of new models and increase their output by adding extra machinery, running additional shifts, or opening new production lines. But the development side of the business is not so easily able to scale.
The engineering/development process at a supplier is a time-intensive operation that is heavily dependent on human resources, including hard-to-find automotive program managers. These are the people responsible for estimating, quoting, designing, developing, validating, and launching a component into production. They are highly skilled and trained, which is to say: You can't just pluck anyone off the street and fill an open program management role. It takes months to bring someone up to speed in that position.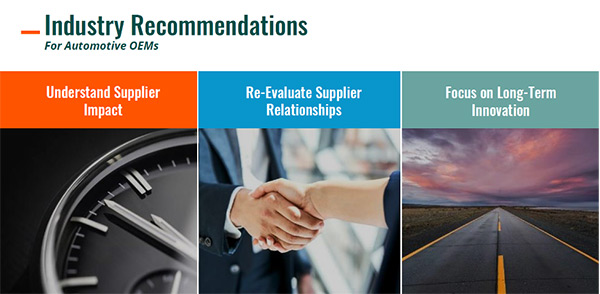 The study from ABI Research recommends OEMs re-evaluate supplier relationships, understand supplier impacts and foster innovation in the automotive industry.
OEMs aren't looking at their suppliers through this human resources lens, however. They are strictly looking through a volume/capacity lens. And while OEMs understand that they might need to secure their own supply of batteries or other critical EV components, they otherwise assume that their suppliers will have ample capacity to handle the rest.
Part of the reason that the automotive manufacturers make this assumption is because the volume of cars being brought to market isn't necessarily changing that much. There's a greater mix of models, particularly as new EV models are introduced alongside existing internal combustion engine models, but the total volume isn't vastly different from what it has been in the past.
Each new model, though, represents an individual automotive program that takes multiple months to get up and running and needs to be overseen by an already over-burdened, over-stretched automotive program manager.
A Latent Threat Rises
Much like the chip shortage that has been vexing the auto industry and hampering its production plans, this supply chain vulnerability on the program management front has been lying just below the surface all along; it just took an unexpected turn of events – in this case, a simultaneous surge in automotive development activity around the globe – to fully reveal it.
Does this mean that the automotive supply chain will break overnight? No – it will just degrade in phases.
At first, suppliers will take longer than usual to respond to bids from the OEMs. Then, there will be an isolated handful of suppliers who decline to bid, followed by an ever-growing number of no-bid scenarios because supplier capacity is gone.
Imagine a bunch of homeowners trying to get their roofs replaced just after a hurricane has blown through the region. They'll soon find out that no roofers are available to take the job because everyone else is looking for the exact same thing at the exact same time. That's the type of scenario the OEMs will be facing with their suppliers as they move forward.
Modern technology that streamlines automotive program management and makes it easier to share information and status updates among relevant stakeholders can help blunt the impact of this scenario – which is a good thing because it's only a matter of time before the OEMs are unable to source the components they depend on for their new models in a timely manner.
Dream On?
Honda's global slogan is "The Power of Dreams." And that seems entirely appropriate, because the auto manufacturers haven't woken up to the fact that they have a shared dependency on a supply chain that won't be able to continue delivering the way it has in the past and won't be able to make their optimistic plans a reality. But all dreams eventually come to an end – and for the auto industry, it will be sooner rather than later unless critical steps are taken.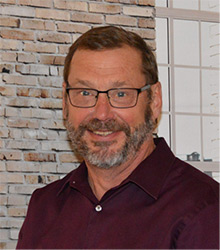 Dave Opsahl
About the Author:
Dave Opsahl is the CEO of Actify, formerly VP of Corporate Development for Tech Soft 3D, and managing director of Sagemark LLC, a consultancy working with technical software developers and users on sales, marketing, corporate development and implementation strategies. He was founder and first executive director of the 3DPDF Consortium, and industry trade group responsible for advancing data interoperability standard for the manufacturing and AEC industries. Much of his efforts have focused on helping struggling organizations find their way towards profitability when the challenges of the technical software market become a threat. When he has spare time you can find him outdoors, fishing, hunting, or mountain-biking the rivers and trails around his home near Bend, Oregon.