Discover the future of Enterprise Resource Planning (ERP) with these 5 expert predictions.
By Kerrie Jordan, Vice President, Product Management, Data Platform, Epicor
Enterprise resource planning (ERP) isn't a new player in the tech field, and has evolved from early MRPs to serve business needs today. As long as businesses need ways to track data and improve processes, ERP solutions will continue to evolve and adapt along with the industries they serve. The question is whether your organization will leverage the evolving offerings ERPs can provide. Here's what the state of ERP looks like in 2023 and beyond.
The State of ERP Today and What's Influencing It
ERP solutions allow you to integrate your core business functions into one platform, and use the data gathered to not only efficiently run your operations, but to make new connections and provide you insights to build powerful competitive advantages. Today's ERP offerings have been impacted by the following industry changes.
Security of Cloud: Cloud adoption has changed the way organizations run, and given them more flexibility and scalability into the future. But the cloud also offers more security as well, considered by two-thirds of business leaders as the biggest benefit of cloud computing — a boon for organizations looking to make the move from higher risk on-prem systems. Public cloud networks, availability, and scale allow for ERP solutions to grow as the organization does, as well as handle the large amounts of data integrations needed in a secure and resilient manner.
Change in the Software Industry: Another industry change that has affected ERP solutions is the change in how organizations purchase and use software. ERP was more of a challenge to implement when software was tied to the hardware because of the higher upfront cost and coordination required. Today, facilitated by the cloud, software can be downloaded to a number of devices, and can be purchased through flexible subscriptions. In fact, the average organization today uses over a hundred SaaS applications. As such, ERP solutions have become SaaS applications, allowing organizations to expand their platforms along with business needs, reap better financial and security benefits, and more.
Data Integrations: A business needs data to flow seamlessly across its organization and applications to understand operations, make informed decisions, and automate workflows. More software offerings operate with open and standards-based architecture so as to allow integrations from a number of different tools. Some of the more modern platforms even offer no code / low code applications to help business users create automated data flows and event triggers among systems, so for example, if something changes in one application, a corresponding change results in another. Because an ERP's strength is in its data collection and analysis, ERPs evolved to be able to handle that level of integration to give organizations the unique information and workflow automation they need to work faster and smarter.
The Changing Nature of Work: Finally, one of the biggest industry changes has been the shift in how people work, and the rise in remote work and distributed teams. Now more than ever organizations need a robust ERP to knit their teams together, wherever they may be. And they need the flexibility of a cloud-based SaaS to do so as well.
Five Predictions for the Future of ERP
ERP solutions are going to continue to evolve to keep up with new technological innovations and to help businesses better serve their customers. Here are five predictions for where ERP solutions are headed.
#1: Data as a Service
Data is one of the most valuable assets an organization has. But if it can't manage its data, integrate it from across business functions, or draw insights from it, operational excellence and growth will be impacted. As such, we'll see more focus on data as a service available from within ERP solutions themselves but pulling from a variety of sources both internally and externally. This means better data collection and integration, a more holistic view of relevant market forces, and robust analysis tools to extract insights and suggested actions from that data.
#2: ERP Contributes to Larger Business Initiatives, Such as ESG
ERP solutions already manage day-to-day activities across the business. But could organizations use their ERP for highly strategic initiatives and collaboration, too? We'll likely see organizations leverage their ERP to play a stronger role in implementing and tracking sustainability efforts, as part of the increasing focus on environmental, social, and governance (ESG) initiatives. An ERP could even become an ecosystem for collaboration, allowing for collective problem solving across teams and external business partners or networks — especially important considering the vast breadth of new innovations needed across a wide spectrum of industries.
#3: Concierge ERP
In order to maximize operations, an organization can't be limited to features and capabilities that don't truly serve what they do. One of the biggest trends today across industries is personalization and it will be no different with ERP solutions, which will allow for bespoke integrations that provide organizational leaders with exactly the data and insights they need. We'll even see a move towards being able to have a marketplace experience with ERPs, where users can call up suggested industry data to provide more insights into overall operations.
#4: Prediction and Automation
In addition to calling up industry data to help with operations, ERP solutions in the future will be able to predict operational issues and make adjustments accordingly. We're already seeing ERP solutions offer automation capabilities for business processes. But imagine if an ERP could look at industry data, sense issues along the pipeline, and accurately recalibrate processes or procurement accordingly?
#5: Manage Rate of Change
Finally, we'll see ERP solutions evolve to be a complete solution that manages an organization's rate of change. By analyzing current operational data and market trends, an ERP can act on the insights it uncovers, and can update business approaches, change how you invest, anticipate needed talent, and more. Your ERP will essentially keep your business resilient and ahead of the industry.
ERP Today and Tomorrow
ERP solutions offer a number of benefits for organizations looking for more streamlined operations, better awareness over their workflows, and more insights into how they're functioning. If you're looking to implement an ERP, look at what it can do for you today as well as how it can help your organization grow into tomorrow.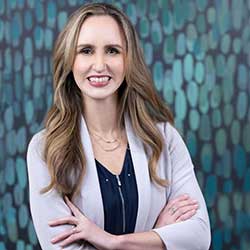 Kerrie Jordan
About the Author:
Kerrie Jordan is Vice President, Product Management, Data Platform, at Epicor Software. In her role, Kerrie leads the strategic direction of Epicor's cloud-enabled solutions to ensure they continue to deliver high-value innovation, security, and performance for Epicor customers. Based in Richmond, Virginia, she brings over a decade of experience in ERP, supply chain, eCommerce, cloud computing, and product development business solutions.
The post 5 Predictions on the Future of ERP  appeared first on Industry Today.