How manufacturers can protect from power outages during a time of extreme weather events.
By Ed Spears, Technical Marketing Manager, Eaton
Summer is a time for fun and family, but it also marks the start of something that can pose an unexpected challenge to many manufacturing operations: storm season. This year is shaping up to be an above-average storm season with the first tropical storms and Hurricane Agatha having already made landfall.
It's important for manufacturers to consider how major weather events like hurricanes can impact both production lines and the IT systems that support them. Making power management a priority as part of a strategic disaster avoidance plan can help keep critical IT infrastructure running in the event of potential weather emergencies.
The bottom line
Downtime can be costly for businesses and it's a trend that is only escalating. According to the Uptime Institute's 2022 Outage Analysis, more than 60% of reported outages have resulted in at least $100,000 in total losses for those impacted – up from 39% in 2019. In the industrial manufacturing sector, where production lines are crucial to revenue generation, unplanned downtime costs the industry an estimated $50 billion each year.
These challenges also come at a time where many manufacturers are struggling to align their evolving IT strategies with power management requirements. Major IT systems now serve as the backbone for manufacturers to improve efficiency through automation while eliminating waste across their operations. If a weather emergency occurs without sufficient backup power in place, it could bring critical operations to a halt for an extended time.
An integrated approach to power management can help manufacturers prepare for storm season and protect their operations. Key considerations for manufacturers seeking to bolster their defenses include the following:
Uninterruptible power supplies (UPSs) – A UPS is the foundation for a comprehensive power protection strategy, providing resilient backup power and a bridge to generator power so IT functions can stay up and running in the event of an outage. A UPS deployed with lithium-ion battery technology can give manufacturers an eight-to-15-year life cycle compared to valve regulated lead-acid batteries – which generally need to be replaced every three to six years – allowing teams to reduce maintenance hours for UPS or battery replacements that can impede productivity.Disaster avoidance software – Disaster avoidance software allows manufacturers to oversee their IT infrastructure without having dedicated IT staff at each plant. Software applications integrate with power management devices to enable a proactive approach to the remote management of critical infrastructure, enabling IT to mitigate power events before they cause damaging outages. Enhanced visualization and contextualization options can also be used to better ensure system uptime and data integrity of IT equipment from anywhere at any time.Remote monitoring and predictive analytics – Advanced preventive monitoring services for power management devices go hand-in-hand with power management software to help anticipate failure of critical components before they occur. Manufacturers can leverage predictive analytics to understand power trends over time, using the data to make better decisions and create efficiencies in their operations through proactive maintenance.Industrial-grade components – Reliability is an important factor to weigh into the equation for power management, especially in plant environments which often have more rugged conditions. Deploying industrial-grade devices across power management infrastructure that are designed to withstand harsher environments, including surge protectors and power distribution units, will help IT ensure a well-rounded strategy to keep systems safe and powered in the face of unpredictable threats.Cybersecurity capabilities – More manufacturers are using IoT-enabled devices to automate plant processes and increase efficiency, which means devices like UPSs are now being connected to the network where they must be protected from cyber threats. It's important to seek out technologies certified to meet cybersecurity standards (such as UL 2900-1 and IEC 62443-4-2) to help protect UPSs against potential attacks. Additionally, with integrated network cards, managers can benefit from improved cybersecurity and enhanced connectivity while integrating with disaster avoidance software and other connected devices.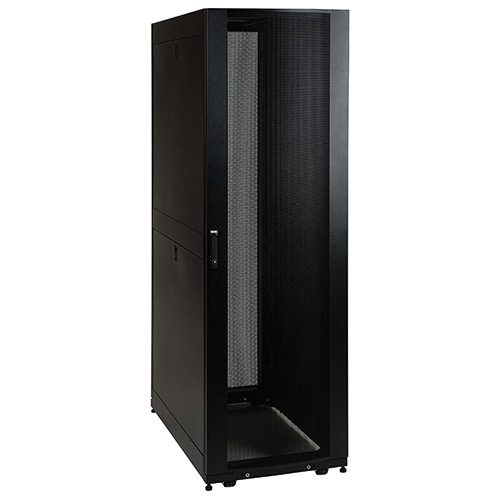 Another important consideration is physical security. Deploying reliable rack enclosures equipped with smart security locks can help protect IT equipment, ensuring that power management and other IT systems remain safe and that only authorized personnel can gain entry.
The time is now
While the 2022 hurricane season has already seen considerable activity, the worst might be yet to come. Most activity in the Atlantic hurricane season occurs between mid-August and mid-October with the peak typically coming in September. The good news for manufacturers is that they still have time to revisit their strategies and priorities before things potentially escalate.
In the future storm landscape, it's important to consider the impact of climate change as indicators suggest that extreme weather events – ranging from severe storms to terrible heat waves – will likely become more frequent or intense. Manufacturers can't control the weather, but they can control their preparation, so establishing a solid foundation now for disaster avoidance can help position them to protect critical systems both now and in the future.
Ed Spears is a technical marketing manager in Eaton's Critical Power & Digital Infrastructure Division in Raleigh, North Carolina. A 40-year veteran of the power-systems industry, Ed has experience in UPS systems testing, sales, applications engineering and training—as well as working in power-quality engineering and marketing for telecommunications, data centers, cable television and broadband public networks. He can be reached at [email protected], or find more information at Eaton.com.